'Animals' claws to top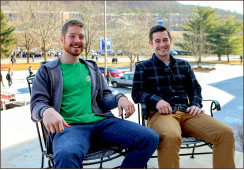 YouTube names "How Animals Eat Their Food" as third overall video of 2013
If Liberty University alumnus Ian Deibert had to choose one word to describe the year of 2013, it would be "blessed."
Deibert and senior Nick Sjolinder went from being normal college students to YouTube sensations when they posted "How Animals Eat Their Food" to their "MisterEpicMann" channel April of 2013. Their video went viral overnight.
"It is the weirdest thing, because we had a few videos before that hit a million views, and that was crazy," Deibert said. "Then this one hit a million within an hour … After that, every million was too surreal."
With the new year, YouTube announced the top trending videos of 2013, ranking "How Animals Eat Their Food" at No. 3 overall, with more than 90 million views, and No. 1 on YouTube's top comedy videos.
"Before the viral video, my YouTube channel was just me and building my really small subscriber base — I think it got to 30,000 people before," Sjolinder said. "When it hit, the night of it, I was just really numb, and when I woke up the next morning it was more than double I had built up in the past four years."
Sjolinder explained that "MisterEpicMann" is a place where he slowly became comfortable with being himself and releasing himself.
"I kind of make a point to not try and copy people," Sjolinder said. "I honestly really try to be myself as much as possible, because I feel like Jim Carrey wasn't trying to be like people, and it is so much easier and less pressure if you try to be yourself (rather) than if you are trying to be someone else."
According to Sjolinder, ideas for videos would just pop into his head, and he would try to keep them as simple as the original idea.
"We made it in five hours in the basement of (Sjolinder's) apartment, edited it until three in the morning and just threw it up (on YouTube), not thinking anything of it," Deibert said. "So that all of this came from it is just really crazy."
After making one viral video, there is a pressure from companies and subscribers to replicate that sensation with a follow up video that is just as popular, Deibert said.
"We didn't make a video for three weeks after that," Deibert explained. "We thought about just ending it, because how do you top that? What do you do
after that?"
Over the next few weeks, several companies, such as Spartan Race and Fullscreen, approached "MisterEpicMann" to do business together, according to Sjolinder, but he felt too young and unprepared for such big decisions.
"(A)s I've been getting used to it, I've felt like I have grown as a person and kind of gone through that principle that Moses went through with not being equipped and realizing I can still stand up for my beliefs," Sjolinder said.
Sjolinder and Deibert now work for Fullscreen, a California YouTube partner, and post a new video every Friday to their channel, Deibert said.
According to Sjolinder, Deibert's and his goal is to help spread the mission of the gospel, but they do not want to just preach something at their audience.
"With the whole fame thing, with people following famous people, it is like idolatry basically," Sjolinder said. "No matter what we do, they are going to like what we do. So (we) try to leverage that in a way (so) we can steer them in the right direction as a start."
Sjolinder and Deibert are currently in the process of making their first short film for their channel with the help of students from the Zaki Gordon Cinematic School of Arts. Sjolinder explained that this video will be unlike all of the videos they have made in the past.
"It is not going to be about humor," Sjolinder said. "It is going to be about the message behind it. It is going to be our first attempt at really trying to use our personas and not our humor to see what they like more."
In the future, Deibert said both Sjolinder and he would like to break out of YouTube and work more behind the camera.
According to Deibert, he is attending Gnomon School of Visual Effects in Hollywood.
"I am going back to school now, taking classes for animation and special effects and CGI," Deibert said. "I would like to get into that, but I am going to keep doing YouTube as long as it lasts."
Sjolinder stated that he would like to branch out into Christian-based filmmaking. Right now, he is in the process of raising funds for his feature film, "John Cain," which is being produced through his company, Lost Light Films.
According to Deibert, their overall mission is to bring glory to God.
"We never could have expected any of this, but God (has) blessed us with it, and we can only hope to glorify him through it all," Deibert said.
To see Sjolinder's and Deibert's work, check out their YouTube channel "MisterEpicMann," or visit lostlightfilms.com.