Faces of Liberty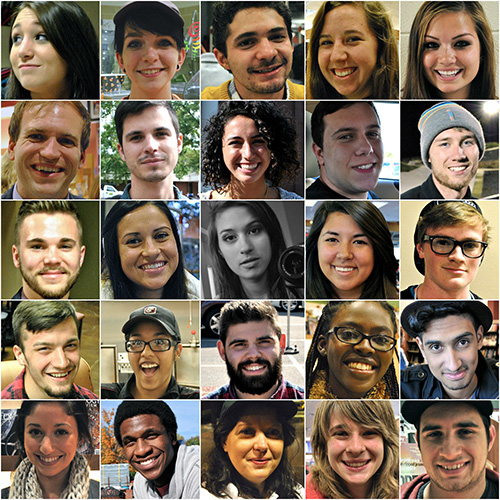 "Electric communication will never be a substitute for the face of someone who with their soul encourages another person to be brave and true," Charles Dickens wrote in his 1856 novel "The Wreck of the Golden Mary."
Though online communication may never be a substitute for personal interaction, Liberty University student Haley Greene is working to better blend the two through her new Facebook page, Faces of Liberty.
Faces of Liberty was created Oct. 17 and has since garnered more than 2,000 likes. According to 18-year-old Greene, a sophomore international relations major, the page strives to capture the diversity of the Liberty student body.
"Faces of Liberty is an outlet for students trying to get their opinions and their stories out there," Greene said. "I'm just a median for that."
Faces of Liberty highlights various students, faculty and staff around Liberty by displaying their pictures with answers to a mixture of questions. Greene has found that some students are willing to be vulnerable through answering questions about faith and life struggles, while others prefer to keep the conversation lighthearted and simple.
"I usually tell people that I have three categories of questions," Greene said. "I have random, I have a deeper more serious one, or you can just tell me about your testimony if that's what you want to share. Some of the people are scared of the deep questions. They usually pick random."
Greene developed the inspiration for the page after passing through a season of personal struggle.
"I had been going through the hardest time of my life, and I was just sulking about it for the first month of school," Greene said. "I got some advice from an older mentor and friend, and she told me that she does (English as a Second Language) at her church because she wants to get the focus off of herself and onto other people. So after letting that sink in, I decided I was going to get up and do something."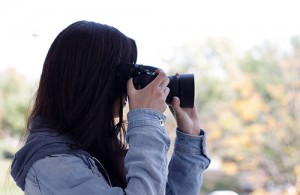 To the surprise of many of her subjects, Greene describes herself as an introvert and readily admits that she is neither a photographer nor a journalist.
"I wanted to meet people because I'd always been an introvert," Greene said. "I just had an idea, and I hadn't really thought it through when I started. I just decided that I was going to ask people questions, so that's kind of how this page came out."
Questions on the page have ranged from student opinions on current matters to what people find most interesting about themselves. According to Greene, there are no set standards for an interview — each person provides a unique experience and result.
"I was inspired by the Humans of New York page, which is kind of similar, but I wanted to take the element of peoples' testimonies and stories rather than focus on the picture because the page isn't a photography page," Greene said. "So now I'm making that a ministry."
In the short time that the page has been active, Greene has managed to photograph and interview more than 100 students, faculty and staff — including Johnnie Moore, vice president for communications at Liberty, and former campus artist Jane Marczweski.
"I don't want to be surface level with people," Greene said. "I tell them that I push them more toward the deeper side so that people can really get a glimpse of who they are. So I'll ask them a deep question and give them time to think about it, and then just get to know them at the same time."
Because Greene takes time to become friends with each of her participants, she has come to find that she is now quickly recognized around campus.
"It's weird, it's so weird," Greene said, responding to the attention on campus. "I was an introvert before this page happened. Some people ask me what it feels like to be a celebrity, but I don't feel like a celebrity. I'm just a person with a camera. I'm just a median."
According to Greene, the 100 plus faces and stories on the page are not enough. In addition to continuing to highlight random students, Greene hopes to also feature the faces that people know well.
"I really want to interview Becki Falwell, Jerry (Falwell), Jr., Elmer Towns and maybe more of the campus musicians," Greene said. "I'm trying to get Jake Holland on there because he's pretty well known."
Through the interview process, Greene said she has found incredible displays of talent, individuality and diversity that she never realized existed on Liberty campus. She said one of her favorite interviews to date was with Liberty senior Rob Estevez.
"I thought that I was going to make a name for myself with music here, which is ironic how it's now something completely different," Greene said. "So Rob was telling me how he was using music to glorify God and how he was getting into the worship program. For me, that just stood out."
Due to overwhelming positive response with the page, Greene recently hosted a bonfire gathering at Camp Hydaway. The event included a time of acoustic worship, marshmallow roasting and ample time for students to answer questions to be featured on the page while experiencing community and fellowship.
"It was really intense," Greene said, describing the bonfire. "I shared my testimony and a lot of people reached out and told me that it really related to them."
Though Greene did not know most of the 100 strangers in attendance, she said sharing her testimony and taking the time to get to know each person soon changed the atmosphere of the event from a group of strangers to a community of friends.
"This whole thing has changed everything about my outward reflection on life," Greene said. "Without this page, I wouldn't have been able to come out of my shell and affect people like this. I really just want to get peoples' stories out there."
Greene said she plans to continue to use the page as a ministry to the student body.
"If I can impact anyone, then I've already achieved my goal," Greene said. "I've had people message me saying that it's been an encouragement to them, and that's such a good feeling."
Though Greene initially intended to make the page a personal project, she said she has decided to bring on a partner to help in reaching more people.
"There are 12,500 residential students, and I can only reach so many of them by myself," Greene said. "It is a lot to balance, but now I have a partner, Amanda Best."
Best first met Greene on her radio show and has since fallen in love with the vision of the page. As a new team member, Best will help conduct interviews and continue to promote the page in order to make Faces of Liberty a campus-wide name.
"I think I am most looking forward to just getting to meet so many new people," Best said. "I can't wait to hear everyone's story. We are honestly just a platform, the people are what makes this page stand out."
According to Best, Faces of Liberty is an important influence around campus.
"Faces of Liberty is definitely impacting the students of LU," Best said. "You can tell by how popular it has become basically overnight. People enjoy reading about people. We see the same people in passing, and on the bus and in Convo. Sometimes you just want to know who that person is, and that's our job. Every face has a story, and you can read those stories on our page."
Though Greene and Best have the ambition of capturing every face and telling every story, they said they ultimately hope to keep the page as a means of spreading the love of Christ.
"I love that I can use it as a tool for God's glory," Greene said. "Really let God use your broken situations and turn it into something better. That doesn't mean go on a grand scale and make a page. I didn't think that was going to happen. But it really does make a difference if you put your trust in Him."
To see some of the faces behind Faces of Liberty, visit facebook.com/FacesofLiberty.