Searching for repeat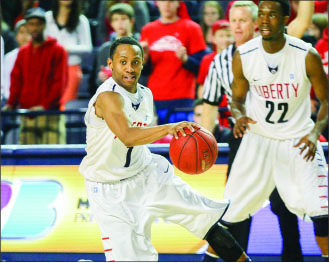 Last season, the Liberty Flames men's basketball team shocked not only the Big South Conference (BSC) but the entire country, being only the second team to win its conference tournament and make it to the NCAA tournament with 20 losses since Coppin State University did it in 2008.
With the regular season approaching, the Flames have a deeper and healthier squad than in years past. Liberty brings back four out of five starters from a year ago and wants to prove that they can win the BSC for the second straight time.
"Guys came a lot closer in training camp," senior guard Davon Marshall said. "We are injury free, so that's a plus. We are looking to build off of our chemistry and continue to get better heading into our first game."
Marshall and guard John Caleb Sanders return as the top two leading scorers on the team. While Sanders averaged 14.4 points per game last season, Marshall was ranked third in the BSC in three-point shooting with a percentage of 43.1 percent.
"I have been reading the game more," Marshall said. "I have been finding guys more in open spots. I have been using my shot more to get into the paint."
Marshall came to the team as a junior college transfer and spent his first season with Liberty learning Head Coach Dale Layer's offense. After a year, he said that he feels more composed in his scheme.
"I feel a lot more comfortable," Marshall said. "(Layer) has a lot more confidence in me, so I just feel good going into the season with the offense this year."
The BSC voted the Flames to finish second in the North division behind the High Point Panthers. While forwards John Brown and Allen Chaney lead the Panthers, Liberty brings back a solid frontcourt with an old face emerging from the fold.
After missing the 2012-13 season due to a foot injury, senior forward Antwan Burrus brings more depth to the Flames front line.
"This is going to be the best season for our frontcourt," Burrus said. "I feel like this will be our strongest year with depth."
In 2011, Burrus averaged 11.3 points and six rebounds per game. He also shot above 50 percent from the field.
"I feel really good," Burrus said. "I've been working out the whole summer. I feel 100 percent and ready to get back out there. I've gotten quicker and learned to face up more on offense."
Along with Burrus, the Flames have a core of veteran leaders that includes six seniors, such as Marshall, Sanders, forward JR Coronado and center Joel Vander Pol.
Liberty has 15 nonconference opponents that features the University of Virginia. Key conference games against High Point and Charleston Southern will be pivotal matchups late into the season.
The Flames begin their campaign for a second straight Big South title when they host the Randolph College Wildcats in their season opener Friday, Nov. 8 at 8 p.m.