Men's class dress code changes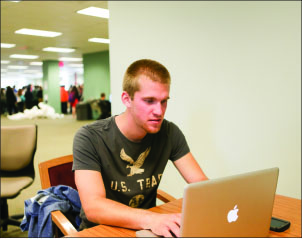 President Falwell approves new policy allowing male students to wear T-shirts in academic buildings
President Jerry Falwell, Jr. approved a change in the Liberty Way Thursday, Oct. 21, allowing male students to wear collarless shirts so long as they otherwise remain in the dress code.
Dean of Students Keith Anderson explained that Liberty University's dress code policy, among others, is reviewed annually, and that Falwell made this decision after receiving several pieces of Student Government Association (SGA) legislation and the recommendation of Anderson himself based on opinions expressed by the students.
"Over the past three or four semesters, we've heard the request for the ability to modify the dress code," Anderson said. "One of the things that I heard most from men was that they would like to wear collarless shirts. The request was sent to the senior administration, and the (president) heard that request and granted it."
According to the SGA, the driving force behind this change was students identifying what they saw as an issue and having their voices heard by administration at the Student Body Town Hall meeting.
Joshua Warner, SGA president, explained that one of the influences toward the policy change was legislation passed by members of student government.
"Over the past couple years, we have crafted legislation … that talked about allowing there to be T-shirts on campus for men and also maybe allowing there to be shorts for guys as well," Warner said. "We brought this up to the (president), and after we passed multiple pieces of legislation … the (president) decided that it would actually be more beneficial to allow the male student population to be allowed to wear T-shirts that are Liberty appropriate."
According to freshman Luke Guseman, student opinion is split on the matter. While most of the male population on campus seems to be in support of the recent change, others have expressed concerns over how this policy change will affect the future.
"I think it's a deviation from where we are and what we are," Guseman said. "I really think (the old policy) allows us to be unique and allows us to at least look nice and give a good self-image."
Freshman Michael Loerop holds the opposite opinion.
"I'm happy with the dress code change because it allows for us to have more freedom," Loerop said.
According to Warner, some students have expressed concern that a change in dress code could be marking more drastic changes to come in the near future, but Warner also explained that any changes that take place will undergo a significant amount of scrutiny, with the ultimate decision left to Falwell.
"This has been in deliberation since even before I've been here, so I think a lot of good thought has gone into it and understanding that, a T-shirt and polo, whether a student wants to wear that, I don't think it's a fair comparison to say that Liberty will be heading down a slippery slope like other universities," Warner said. "As Christians, we will do our best for Jesus whether that's in dress or any type of standard. We will do our best as Christians to do great things for Jesus."
Students are often the first members of a university body to identify problems and are highly encouraged to voice those concerns to the SGA or during Town Hall meetings, according to the SGA.
"(Students) can understand those issues best, and they just need to know where to voice — the proper way — their opinions," Warner said. "That's what we really look for, is making sure the students are involved civically and also making sure that they have a proper way to voice their opinions to the administration. If we're doing that, SGA is happy, and we've accomplished our goals."
Quote from President Falwell:
"When I was a student at Liberty, men had to wear ties to class, and curfew was 10:30 p.m. with lights out at 11 p.m. My father approved various rule changes over the years as traditions and customs changed in the culture. Some were surprised when he approved jeans and flip flops for students about 10 years ago.
He explained repeatedly that many of the rules in the Liberty Way were only meant to teach young people discipline, and that they were not rooted in Biblical mandates. He stressed that, while Liberty will continually review, revise and update the Liberty Way in order to keep it culturally relevant, it will never compromise its doctrinal statement or its commitment to the fundamentals of the Christian faith.
It is important for students to remember that following the Liberty Way doesn't make them a better Christian than anyone else. The Liberty Way is a tradition at this university and is part of what makes us unique, but it is not what makes Liberty a Christian university. There are so many other factors, including the faith in action that I see here every day ­­— Christian faculty and students demonstrating their love for God by loving others and serving others in need — that confirm Liberty is as spiritually healthy as it has ever been."