Panthers tamed in 73-7 rout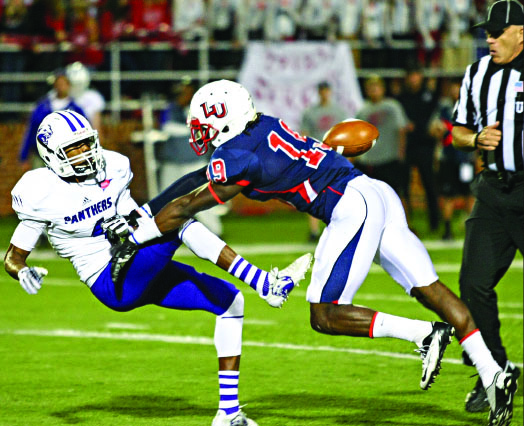 Liberty Flames wide receiver Darrin Peterson snatched a 55-yard bomb from quarterback Josh Woodrum and strolled into the end zone on the Flames first offensive play of the game to begin the Flames (3-2, 0-0 Big South) 73-7 annihilation of the Kentucky Wesleyan Panthers (0-4).
"That was our first play call," Liberty Head Coach Turner Gill said." "It's outstanding seeing Peterson capitalizing on those opportunities and Woodrum being able to make that throw and execute it in that way."
The Flames added another score just 2:26 into the first quarter after Andrew Jauch returned a blocked punt for a touchdown to give the Flames a 14-0 lead.
"We sort of had a guy come free, and it's good to see the guys get their hands on the ball and execute that way," Gill said.
After a field goal by Flames kicker John Lunsford to give the Flames a 17-0 edge, the Panthers bounced back with a 48-yard catch and run from wide receiver Jeff Ward to cut the deficit to 17-7 with 5:04 to play in the first quarter.
The Flames wasted no time responding and took firm control of the game after Woodrum completed a 21-yard dart across the middle of the field to Peterson for his second touchdown catch of the day. The play gave the Flames a commanding 24-7 lead.
All three of Liberty's touchdowns in the second quarter were set up by interceptions.
"Yes, (it was) very, very pleasing (to see interceptions)," Gill said. "We sort of have an inside (joke) where we talk about we don't want to see PBU's (pass breakups), so it was good to see our guys execute when they had an opportunity to intercept a pass."
Flames cornerback Walt Aikens started the interception spree after returning an interception 45 yards to the Panthers 26 yard line. Flames running back Desmond Rice ran in a 26-yard touchdown on the next play, increasing the Flames lead to 31-7.
Flames defensive back Kevin Fogg intercepted his third pass of the season on the Panthers next drive.
On the ensuing Liberty possession, the Flames drove the ball down to the two-yard line, where running back D.J. Abnar punched in a two-yard touchdown run to bring the Flames lead to 38-7.
Liberty freshman safety Gary Sampson recorded his first career interception and touchdown on the same play with 3:14 remaining in the first half. Sampson intercepted a pass from Panthers quarterback Dalton Oliver and weaved his way 31 yards to the end zone, giving the Flames a 45-7 advantage.
"I was excited," Sampson said. "As soon as I caught the ball, I think I broke a tackle. I just remember running for the sideline, and as soon as I saw the pylon and I started jumping up in my head."
The Flames inserted backup quarterback Javan Shashaty in the third quarter and he threw his first career touchdown pass to Rice with 9:33 remaining in the third quarter.
"I think it's exciting for (Shashaty)," Gill said. "Every kid practices hard whether they're first team or second teams guys. So to go play a game and get rewarded like that, and execute a touchdown pass and execute the offense and take them down for scoring drives, it gives confidence to him and us as coaches."
In the fourth quarter, Liberty running back Austin Kaigler recorded his first two career touchdowns, extending Liberty's lead to 73-7.
Woodrum threw for two touchdowns and 114 yards, while backup quarterback Shashaty threw for 107 yards and one score.
Peterson caught two touchdowns and had 86 yards receiving.
Abnar ran for a career-high 108 yards and two touchdowns, while Rice ran for 68 yards and one score, plus one receiving touchdown.
Liberty travels to take on 2012 Walter Payton Award winning quarterback Taylor Heinicke and the Old Dominion Monarchs (3-2) Saturday, Oct. 5 at 6 p.m.
"I ain't worried, not one bit," Peterson said.