Alumna excels as ESPN sportscaster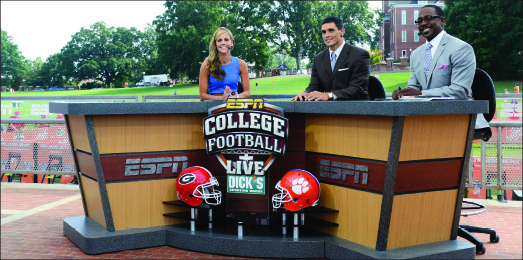 Since graduating in 2009, Samantha Ponder has gained national fame while reporting on college sports
Liberty University graduate Samantha Ponder wasted no time in climbing the ranks of the sports broadcasting world.
After reporting for the Flames Sports Network (now the Liberty Flames Sports Network) during her senior year of college in 2009, Samantha Ponder worked at the Longhorn Network and Fox Sports before starting her current job at ESPN, where she is most known for being a part of the popular Saturday morning show, "College GameDay."
"There's really nothing like 'College GameDay,'" Samantha Ponder said. "It's one of those things where it had been described to me before I ever did it, but until you get out there and you just see the crowd and the insanity that's there at four in the morning, it's just something special."
In addition to "College GameDay" Saturday, Samantha Ponder said her weekly schedule includes feature stories early in the week, reporting at a game Thursday and "College Football Live" Friday. When the college football season ends, she will take the court as a basketball reporter for ESPN's coverage of college basketball and later the NBA Playoffs.
"I'm usually on a plane six to eight times a week, so you definitely get your frequent flier miles up, but it comes with the gig," Samantha Ponder said. "If there is a negative, the travel would probably be it, but it's certainly not worth complaining about."
According to Samantha Ponder, sleep can be hard to come by, but her passion for sports and the people she meets along the way make it all worthwhile.
"I think what's fun about this job are just the people you get to meet, and that's not just your Urban Meyer and your LeBron James type people," Samantha Ponder said. "It's more the regular people that you meet at the sites. We have such a cool crew for 'College GameDay' … It's kind of developed into a family, and when you spend that much time on the road, you need that."
Samantha Ponder said that her faith in God, much of which she credits to her parents' guidance, has also helped her shrug off the constant pressure that comes along with working in such a competitive industry.
"It takes away the worry that I think is so prevalent in this industry, that constant paranoia that people aren't going to like you, or what are people going to say on Twitter or online?" Samantha Ponder said. "I have lucked out that I've gotten to work with some people who share my faith, right now on 'College GameDay' working with a guy like David Pollack who loves the Lord and loves his family can be an encouragement to me."
Despite only graduating four years ago, Samantha Ponder replaced popular sideline reporter Erin Andrews last year on "College GameDay."
"I don't think I have some sort of formula that makes you successful in this industry," Samantha Ponder said. "I know one thing for sure, and that's this: if you treat people right along the way when you're an intern and when you feel like you're not doing anything important, that will make a difference in the long term."
According to Bruce Carey, the senior producer for the Liberty Flames Sports Network who worked closely with the reporter at Liberty, Samantha Ponder's success on and off the camera can be traced back to her ability to create good relationships with the people around her.
"The thing about (Samantha Ponder) was the fact that she could relate to anybody, whether you were a college student, a coach or a player, whoever you were," Carey said. "Instantly, she had the ability to figure out what made you comfortable. That's really unusual."
Samantha Ponder, originally a Phoenix native, interned for ABC Sports in New York City for three years before coming to Liberty. According to Carey, the two met before football season began, and Samantha Ponder wanted an opportunity to do sideline reporting.
"After talking with her for a while, I realized she had kind of the trifecta," Carey said. "She had the looks, the personality and the sports background. She had everything that I was looking for, but she was basically untried. So I put her on the sidelines for our first football game that year, and she just hit a home run."
As if Samantha Ponder, formerly Samantha Steele, did not have enough football in her life, she married Christian Ponder, an NFL quarterback for the Minnesota Vikings, in December of 2012.
Samantha Ponder did admit that her career has progressed faster than she expected it to, but she attributes all of her success to God.
"I think the cool thing about that as a believer was to see that that's no big deal for him," Sam Ponder said. "He made the moon and the stars. Getting a 22 year old or 23 year old a job that she thinks is cool is no big deal for him."
Despite all of Ponder's recent advances in the professional realm, she said she feels content with where she stands.
"I have learned in my brief adult life that the more I plan, the more things go wrong," Sam Ponder said. "So, right now, I'm just trying to appreciate the opportunities that I have and be grateful for that."