Steel curtain emerges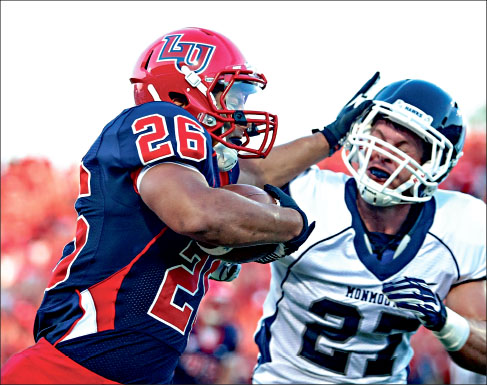 Defense anchors the Flames, forcing a trio of Hawks turnovers and a safety
An 85-yard touchdown pass from quarterback Josh Woodrum to Darrin Peterson and a pick-six by defensive back Kevin Fogg highlighted a 45-15 Liberty Flames (1-1, 0-0 Big South) victory over the Monmouth (N.J.) Hawks (0-2) Saturday, Sept. 7.
"I'm proud of our guys, they responded real well in this ballgame," Liberty Flames Head Coach Turner Gill said. "Our defense was very physical, and I thought that they controlled the line of scrimmage and dominated their offensive line. The corners played outstanding. I thought we improved last week to this week, and we're just excited to have the victory."
The Flames were forced to punt on their initial drive, but punter Grant Bowden pinned the Hawks inside the one-yard line.
After two consecutive rushes for no gain, the Hawks tried one more run on third down from the one-yard line, but running back Julian Hayes was tackled in the end zone for a safety to give the Flames a 2-0 lead with 8:05 remaining in the first quarter.
"I think it set the tone on the defensive side," Gill said. "We got some points on the board right away, and it was a field position change too."
On the ensuing drive by the Flames, Woodrum found wide receiver Dante Shells for a 40-yard gain inside the three-yard line. Two plays later, junior running back Desmond Rice was able to find the end zone and give Liberty a 9-0 lead.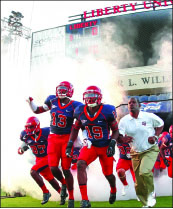 The next kickoff nearly proved disaterous for Liberty as a failed onside kick led to great field position for Monmouth, which was able to capitalize on the first play of its drive with a 27-yard touchdown pass from quarterback Brandon Hill to Mike McLafferty. However, the Hawks botched the extra point attempt, and the score remained 9-6.
"We didn't quite get (the onside kick) a little bit further down, away from the front line," Gill said. "Their guy made a good play, and unfortunately, we had a shot at it and didn't get it, then they picked it up and made a play out
of it."
Monmouth continued to seize the momentum after a spectacular one-handed interception by cornerback Tevrin Brandon. The Flames defense was able to stop the momentum and force a three-and-out to give Liberty possession once again.
The Flames responded with a six-play, 50-yard drive, which was capped off by Peterson's first touchdown of the game, a 28-yard strike from Woodrum. The Flames also converted the two-point conversion for a 17-6 lead.
With 7:16 remaining in the first half, Fogg intercepted a pass from Hill and returned it for his first career pick-six to give the Flames a 24-6 lead.
"We were in man," Fogg said. "First we read the quarterback, then I saw it was a slant, and I was ready to hit the dude … I saw him bobbling it, and it kind of just fell into my hands and legs."
Liberty struck once again with the big play as Woodrum found Peterson in stride for an 85-yard touchdown to cap off a three-play, 95-yard drive and gave Liberty a 31-6 first half lead.
"I saw the safety working away from (Peterson), so I just threw the ball downfield … and put a nice little ball up there for him to catch, and he did the rest," Woodrum said.
The Flames defense shut down the Hawks offense, allowing only four first downs and 75 total yards in the first half.
"That's one thing that is our strong suit," Fogg said. "Our defense is phenomenal. We have a lot of playmakers. We have a D-line and linebacking core that will get after you and get pressure on the
quarterback."
The third quarter brought more of the same from Liberty, with two more scoring drives, including a one-yard run by Clifton Richardson.
The Flames final touchdown drive of the game saw the Flames implement some fun and trickery in their offensive play calling.
A double reverse flea-flicker ended with Peterson throwing a 22-yard completion to tight-end Brandon Apon. Running Back D.J. Abnar found his way into the end zone two plays later to give the Flames a 45-6 lead.
Monmouth added nine points in the fourth quarter to cap off the scoring at 45-15.
Woodrum finished the game with 237 yards and two touchdowns, finding Peterson for 124 of those yards and two touchdowns.
Liberty's defense had three interceptions, including two by Fogg and one by Aikens.
The Flames will host the Morgan State Bears (0-2, 0-0 MEAC) Saturday, Sept. 14 at 7 p.m.