Julia Seymour
Although most people in the media follow a code of ethics respective organizations, bias always seems to creep within reporting. To expose unbalanced reporting, Julia Seymour (2005) scans various new sources and writes about the bias she finds for the Media Research Center's Business and Media Institute (BMI).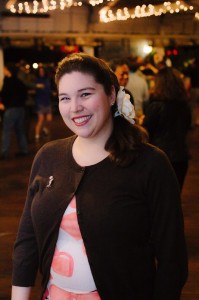 "I write my analysis of how stories are getting spun or distorted so the public becomes aware and also so that journalists are held accountable," Seymour said.
There are many types of bias in the media, but Seymour specifically writes about "liberal bias" in business news.
Her conservative values can be attributed to her upbringing and her education at Liberty University.
Seymour was raised in upstate New York in a homeschool setting. She said that she had a pretty regular upbringing and did what every other girl that she knew did, including being in the Girl Scouts. She also did ballet and played instruments.
Going into college, Seymour wanted to become a lawyer and enrolled in a community college in hopes of transferring into a pre-law program.
Once she was in college, Seymour took a journalism course to fulfill communication credits. As the semester went by, she realized her future was not in law, but in journalism.
"I just fell in love with it," Seymour said. "I finally felt that there was a type of writing that I understood and one that I can do well in. It tapped into my desire to talk to people and learn about them. I get bored easily, and journalism always keeps me doing something different."
According to Seymour, she earned her associate's degree and decided to pursue journalism at Mansfield University. She wanted to get involved with the school newspaper as well, but was not able to due to her commuting situation. During her senior year, a friend who attended Liberty University recommended that she come to his school and write for the paper.
"I thought he was crazy," Seymour said. "I was paying my way through college, and I had no intention of taking out loans, and I didn't think there was any way that I could go to a private Christian college. But I looked at the numbers, and I looked at the website, and it wasn't much different from what I was paying, and I decided to make the jump."
Seymour spent two and a half years at Liberty where she fulfilled her desire to work at the school's newspaper by writing for the opinion section before becoming the opinion editor.
After graduating from Liberty, she worked for Accuracy in Academia where she wrote about bias in education before her current boss emailed her and set up an interview, Seymour said.
"He found my resume at a conservative jobs website and asked me if he knew if anyone would be interested in a position," Seymour said. "I said, 'Yes, I would be very interested in that position,' so we discussed it, did all the standard things that you needed to get a new job, and they hired me."
Since she joined the BMI, Seymour has made broadcast appearances on television channels such as Fox News Channel and Christian Broadcasting Network, and she has been interviewed many times by various radio stations in more than 30 states.
Out of these interviews, Seymour said that the most memorable interview was when she and her boss were guests on the G. Gordon Liddy radio show.
"We were talking about global warming or climate change, but there was a breaking decision about gun control that day, so we ended up talking about multiple things during the course of the interview," Seymour said. "It was very intimidating being on air with a legend, but it was an amazing experience."
When she is not scoping the news for liberal bias at her Virginia-based nonprofit, Seymour has a number of hobbies, such as photography, that she enjoys during her free time.
"The one that I'm most dedicated to is lindy hop dancing," Seymour said. "Which is kind of ironic because when I was at Liberty you were not allowed to dance."