Fifth-year senior defies odds to lead Liberty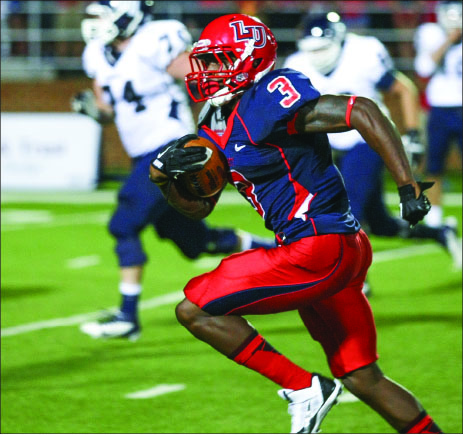 Kevin Fogg's return for the Flames has made a huge impact on the field in the first two weeks of the season
As little as six months ago, Flames defensive back and kick return specialist Kevin Fogg thought his college football career was over. He would never get to run another kick back for a touchdown as Williams Stadium erupted in raucous celebration. He would never get to intercept another pass or drive an opposing wide receiver into the turf as the ball deflected off his hands. He'd never wear a Liberty Flames jersey again.
Fogg broke his foot four games into the 2012 season, according to the 2013 Liberty football guide, and was deemed out for the season. Because he was a senior, it did not appear he would be back for another season, especially having already played four games.
"I wasn't sure (about coming back)," Fogg said. "People were telling me the whole time that I was coming back, but … I wasn't sure, with me playing four games in the season it made it hard to make a decision on everything."
Fogg was granted a medical hardship waiver from the NCAA in the offseason.
According to Head Coach Turner Gill and quarterback Josh Woodrum, his return gives the Flames an experienced starting cornerback and return specialist, as well as an increasingly more vocal and spiritual leader.
"He's gonna make some big plays for us, whether it's pass breakups, whether it's interceptions on the defensive side, and then also on the kick return and punt return," Gill said. "He's gonna have opportunities to make some big plays for us."
With his foot now at 100 percent, Fogg would like to be able to regain his 2011 form — when he was a first-team Football Conference Subdivision (FCS) All-American kick returner — but also understands he has bigger responsibilities than recreating that magical season of the past.
"(Through the injury) I feel like I have become stronger as a person, stronger in my faith, stronger as an athlete and (stronger) in the way I think," Fogg said.
Fogg believes the time on the sideline has also helped him grow as a vocal leader for the team.
"To sit out and watch this past season, it helped me to see that we didn't have that many vocal leaders, and that was really a weakness for us," Fogg said. "So over this summer and from the end of that season up until now, it's just been a huge focus on the leaders leading and being vocal about things."
Recovering from injury was not too devastating of a task for Fogg, having previously overcome adversity in his life. He was raised by his single mother, Marsha, who worked tirelessly to support her three sons Kevin, Brandon and Michael. Despite a standout career at Apex High School in Raleigh, N.C., Fogg was lightly recruited out of high school before becoming a Flame. But Fogg has fit in at Liberty from the start, not only becoming one of the top football players in the Big South Conference, but growing in other parts of his life as well.
"If I went anywhere else, I don't think I would be as spiritual(ly) minded as I am now." Fogg said. "It's definitely been a great journey … being in an environment where you can be bold about (being a Christian), where you can express your love for God."
Even with the trials of the past year, Fogg has aspirations of playing in the National Football League, despite probable questions about his size (he is listed at 5 feet 10 inches, 190 pounds) and the level of competition in the FCS.
"I've always been the underdog in my life, living in a world where things weren't given to me," Fogg said. "So to work hard and get to (the NFL) would be a huge accomplishment. That's the ultimate goal. You never know how things will go. You never know where God will lead you, so when he calls you, listen. So wherever he calls me, I'm gonna listen
and go."