Downpour of emotions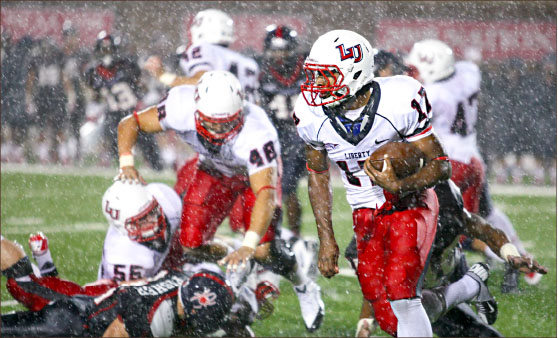 Two blocked field goals and two turnovers hurt Flames in soggy 30-21 loss to Richmond
Playing against a coach who brought current Liberty football juniors and seniors into the program makes for an emotional setting. No matter the end result, a bittersweet taste is all that remains. For former Liberty Flames (2-2, 0-0 Big South) and current No. 20 Richmond Spiders (2-2, 0-0 Atlantic 10) Head Coach Danny Rocco, it was just that, as the Spiders defeated the Flames Saturday, 30-21.
"I'm relieved this game is over," Rocco said. "I've been waiting for this game to be over since February … I watched film on (Liberty) in the summer just to see what they look like, and they are a great team. I knew that after last week, this week turned into a must-win game. It was tough. I was there for six years and built many relationships."
Among the 8,076 in attendance, Flames fans made the trip to Richmond to support their team, sometimes chanting and yelling louder than the Richmond fan base.
A steady rain that glistened over Robins Stadium became a downpour by the third quarter, which caused second half blunders. A Liberty fumble, interception and two blocked field goals in the third and fourth quarters made the difference.
"We had two turnovers, and they didn't," Liberty Head Coach Turner Gill said. "We have to capitalize on our opportunities. We have to learn from our mistakes."
Although known for the passing game, Richmond came out running, catching the Flames defense off guard and gashing them for huge chunks on the ground. With 9:51 left in the first quarter, Spiders running back Jacobi Green broke open a 51-yard run. This set up a field goal, and the Spiders took a 3-0 lead.
The Flames answered on the next possession. Quarterback Josh Woodrum went 4-4 for 59 yards on the drive, hitting wide receiver Gabe Henderson three times. The Flames capped off the drive with tight end Brandon Apon catching a 20-yard touchdown strike from Woodrum. Liberty took their only lead of the game, 7-3.
Before the end of the first quarter, Richmond quarterback Michael Strauss and his offense began to show their balance, keeping Liberty's defense on its toes. The Spiders ended their five-play, 65-yard drive with a 2-yard touchdown from running back T.J. Moon.
"I thought we would do a good job holding off their run game," Gill said. "But we had to make adjustments in the second half to eliminate the success on the ground."
After a Strauss touchdown pass gave the Spiders a 17-7 lead late in the second quarter, wide receiver Dante Shells caught a 32-yard pass from Woodrum to set the Flames up in the red zone. Four plays later, at the 9-yard line, the Spiders could not contain Woodrum, who scrambled left and dove for the pylon, putting the Flames within three points.
However, after Woodrum's touchdown, the Spiders balanced attack and 13-yard touchdown run by Moon gave the Spiders a 23-14 lead heading into halftime.
Richmond wide receiver Ben Edwards worked to get open and was active in the first half, catching six balls for 85 yards.
"First of all, I would not say (Liberty cornerbacks Walt Aikens and Kevin Fogg) are good, they are great," Edwards said. "We really had our hands full preparing
for them."
The Spiders ability to move the ball at will ended at halftime. The Flames defense only allowed 21 Richmond yards in the third quarter.
"At halftime, we made the necessary adjustments that we needed to make," Flames linebacker Nick Sigmon said. "We made more plays on the defensive side of the ball."
In the first half, Richmond gained 332 yards on offense, with 116 of those yards coming from Green.
"We had a bitter taste in our mouth that we didn't produce enough rushing yards in the last two games," Green said.
On the Flames first possession of the second half, cornerback Kevin Fogg's 36-yard kick return gave Liberty good field position. Two plays later, running back Desmond Rice slashed through Richmond's defense down the right sideline for a 46-yard touchdown run, cutting the deficit to two.
While Liberty's defense began to adjust to Richmond's scheme midway through the third quarter, heavy rain drenched the field. A Rice fumble gave the Spiders great field position deep in Flames territory.
"I was coming through the hole," Rice said. "I don't even think I got hit. I didn't hold the ball with two hands, and it banged off one of our players."
Coming out in the wildcat formation, Edwards took a direct snap and rushed into the end zone, giving the Spiders a 30-21 lead. Richmond cornerback Wayne Pettus came up with three key plays that helped solidify a Spiders victory. Along with his four total tackles, he had two blocked field goals and an interception late in the fourth quarter that proved beneficial.
"(The two blocked field goals were) very big, (because) we only won by nine," Pettus said. "If they would have made the first field goal, they would have been down by six and (on) the second one, they would had been down by three."
Rice ended the game with 12 carries, a career-high 106 yards and a touchdown. Rice ran for more than 100 yards in a game for the first time as a Flame.
"(Rice) is a really good kid," Rocco said. "I'm proud of him. My son and him are real close friends, and it was good seeing how hard he ran tonight."
Woodrum went 23-42 for 241 yards with a touchdown and an interception. Safety Jacob Hagen had 11 total tackles, cornerback Walt Aikens had 10 total
tackles.
The Flames will play the Kentucky Wesleyan Panthers at Williams Stadium Saturday, Sept. 28, at 7 p.m.