SA hosts Bald Mountain 10K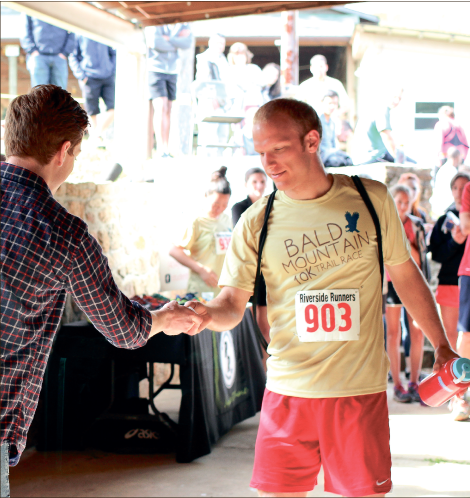 Runners competed in the race at Camp Hydaway Saturday morning
Runners rose early in the morning and raced through the woods and trails of Liberty Mountain in pursuit of first place Saturday, April 27.
The Liberty University Student Activities Bald Mountain 10K invited everyone from Liberty students and staff to Lynchburg residents to run, challenging participants with a course full of steep hills waiting to be conquered. The Bald Mountain 10K also marked the longest of three Liberty Mountain Trail Series races that Student Activities during the spring semester.
The course — a circle which began near the lake at Camp Hydaway and led runners through the woods to the Liberty Mountain Snowflex Centre and back — proved tough for even the fastest participants.
"I liked it," Doug Cubbage, the race's first-place-overall finisher, said. "It's not too terrible. You've got a couple hills. The first one here is a good one to get the heart rate up."
Cubbage, a Lynchburg resident and a second-time Bald Mountain participant, said that prior to leaving the rest of the field behind and earning a first-place plaque Saturday morning, he had never before won a competitive race.
"I do a lot of running and mountain biking out here during the week," Cubbage said. "I just like to do some trail running, but I don't like to do anything too long and crazy. (A) 10K is a nice distance."
with her sister and mother made a experience even more enjoyable.
"My sister is really big into running, and she decided to up my mileage," Schreiber said. "I usually run 5Ks. This is my first 10K, so I decided to give it a shot. I really liked it. It was a different change of pace from the normal 5K, so it was nice."
Schreiber said that she ran cross-country in high school, but now a nursing major at Liberty, she said that completing schoolwork often prevents her from running as much as she would like to.
"I didn't really train for this one," Schreiber said. "I just kind of ran my normal three to four times a week and then just decided to give this one a shot, because I do not have that much time to train.
It's more my outlet to do something good for me."
According to Student Activities event staff Dylan Steine, the race's sponsors – Riverside Runners, Rehab Associates of Central Virginia and Domino's – helped in many ways, such as planning out the course, keeping track of runners' times and refueling everyone after the race with Domino's pizza. Student Activities workers also raffled off gift certificates to Riverside Runners and gift cards to Regal Cinemas after the race had concluded.
"(Student Activities) has done such a good job," Schreiber said. "They've done amazing. I've run a couple of other races with them too, and they've done such a good job with organizing it. They make them a lot of fun, and I can't wait to run more."
According to Steine, results will be posted online later in the week following the race. For more information about the Liberty Mountain Trail Series, go to liberty.edu/sa.
Liberty sophomore Katie Schreiber finished her race in 64 minutes. Even though she had hoped to post a faster time, Schreiber said that running