Reel talk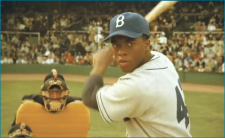 "42" a stirring tribute to Jackie Robinson
For moviegoers born in the early '90s and later who have never borne witness — either as a victim or an observer — to outright racial segregation or prejudice, writer/director Brian Helgeland's "42" provides a sobering view of the African American struggle for equal treatment as a part of "America's game." For those who have experienced such prejudice, the film is a chilling reminder of one of the darkest chapters in American history.
But "42" is also a celebration, for all Americans, of the progress that has been made toward mending racial animosity in recent decades.
While certainly not an exhaustive view of Jackie Robinson's life or career — the film only covers a few months of history — it is a fitting tribute to the brave men and women — Christians — who, by their commitment to do what they believed was right in the eyes of God and what was best for baseball, gave steam to a movement that ultimately brought equality to America.
In early 1947, Dodgers owner Branch Rickey, an unashamed Christian played by Harrison Ford, decided that it was time. His ball club was going to break the color barrier, regardless of the response.
Robinson, portrayed by Chadwick Boseman, was a UCLA-educated, former second lieutenant in the United States Army and rising star playing shortstop in the Negro League — a perfect candidate for the Dodgers.
Robinson's baseball acumen was unquestioned, but his self-restraint was. Known for jawing and trash talking on the field, Robinson was not one to take discrimination lying down off of it. To play for the Dodgers however, he would have to.
The film captures that overwhelming prejudice in a way that is as well-done as it is, at times, unsettling to sit through.
The culture war was fought both in the public and within the Dodgers organization. Several players ultimately rejected the notion that an African American could play in the majors and made appropriate career moves.
Perhaps no one hated Robinson's presence more than Phillies' manager Ben Chapman, portrayed by Alan Tudyk.
In a scene that just seems to never end, Robinson endures Chapman's heckling — without a filter and with increasing vulgarity — for three consecutive at-bats.
In an amazing display of restraint amidst a steady barrage of unfathomable hatred, Robinson holds himself together publicly before retreating to the entrance tunnel.
In one of the most emotionally moving scenes of the entire film, Robinson flies into a rage before eventually slumping in a heap, in tears.
But Rickey, taking Robinson in his arms, explains to "Jack" that he is medicine for America, and the game. The back-and-forth between Ford and Boseman throughout the film is rich with feel-good moments like this.
The same can be said for the on screen chemistry between Boseman and Nicole Beharie, who plays the part of Robinson's wife, Rachel. The romance, which to the satisfaction of conservative audiences is unadulterated by typical Hollywood promiscuity, is warm and believable without being overly cutesy or cheesy.
The film also provides more than a few chuckles. One teammate jokingly suggests to Robinson as they stand before a booing crowd that for the next game, the entire team should wear No. 42 so that the crowd would not be able to tell them apart.
The film does suffer from a handful of small continuity problems however. Several times, screenshots taken of particular events appear in color, which seems out of place considering color photography did not exist in the '40s.
As a writer, I appreciated the character of Wendell Smith. Played by Andre Holland, the black sportswriter who chronicled Robinson's early career. While overall, the exchanges between Holland and Boseman do not have the same quality as those between Boseman and Ford, a scene where Smith describes to Robinson how he is not permitted to sit in the press box is particularly impactful.
Overall, "42" does more than a good job of telling a great story that anyone — sports enthusiast, or not — will enjoy. To the Liberty community, I would say that the movie is worthy of being seen at Regal Cinemas, rather than in a few months when it eventually arrives at Cinemark.