Smokin' Aces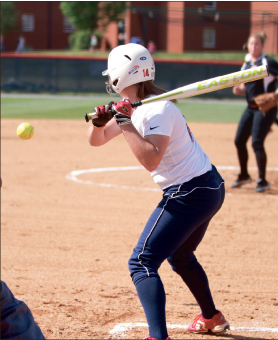 Brittingham shutout leads Liberty to 7-0 win
Liberty freshman Annah Jo Brittingham made the Manhattan Jaspers' bats cold, striking out five while allowing only two hits in a 7-0 win.
The Lady Flames did not hesitate to ignite the offense early. Katie Zavodny reached base on an error, followed by an infield single by shortstop Blair Lawrence.
Strategic base running was key to the first run as Lawrence made a go for second. As soon as the ball left the Manhattan catcher's mitt, Zavodny scored to put the Flames ahead, 1-0.
Later, Sammi Shivock brought Lawrence home on a squeeze bunt to bring the lead to two runs while loading the bases, but Manhattan pitcher Kate Bowen struck out Megan Robinson to avoid any further damage.
Brittingham tossed a no hitter through three and a third innings, but Bowen ended it with a sharp single into the outfield. However, Brittingham and her defense retired the next two batters, leaving Bowmen stranded at first.
The Flames loaded the bases in the bottom of the fourth inning and Katie Hon brought Robinson home, giving Liberty a three-run lead. Manhattan had a chance to get back into the game in the top half of the fifth, loading the bases, but Brittingham and the Flames escaped unscathed.
The big blow to Manhattan's comeback attempt came in the bottom half of the fifth, when the Lady Flames Megan Robinson sent a three-run blast over the fence and ended Bowmen's day in the circle as Liberty doubled its lead to 6-0. The Lady Flames tallied another run in the sixth, and Brittingham finished off the Jaspers as Liberty captured the 7-0 win.
It was the first shut out for the Lady Flames of the season. Brittingham tossed a complete game, allowing no runs on two hits with five strikeouts. The Lady Flames improved to 5-7 while the Jaspers dropped to 0-1.