LUO adds certificate programs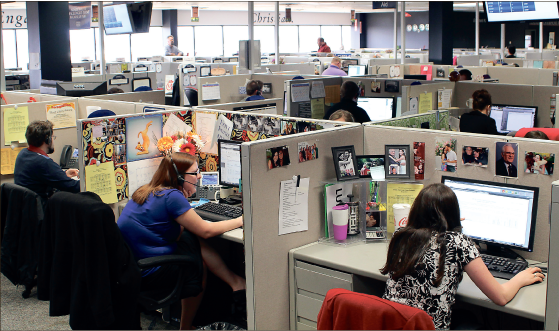 New courses can be taken in areas of interest or to add specialized skills to a completed degree
Liberty University Online began classes for its new certificate programs Monday, March 18.
These programs offer undergraduate certificates ranging from business to criminal justice as well as graduate certificates in various subjects from applied communication studies to executive leadership, according to the Liberty University Online website.
Executive Director of Admissions for Liberty University Online Steve Peterson said that the certificate programs were just launched this spring and that there has been a great response so far. More than 100 people have enrolled in the 38 programs that went live for the spring, as well as the few that are going live for the summer and fall.
According to Peterson, the certificate programs are open to everyone regardless of college degree, as long as they are a high school graduate or have a general education diploma. The programs also allow students to transfer in their credit to finish a full-degree program if they desire.
"For a few years, the university has looked into developing certificate programs that would serve students that may not want to pursue a full degree, or maybe they've already earned a degree and are looking to add on an area of specialization that would help them in their current employment," Peterson said.
The certificates compliment any degree that students may already have or give an edge to those already in the workforce, according to Peterson. People are drawn to these programs because 9-15 hours is much more manageable and provides for a quicker completion than a traditional degree.
"For instance, if someone had an undergraduate degree but was now in a position of leadership or management in their company, they may want to go back to school and not attempt a whole degree related to management, but take our graduate certificate courses that total 9 hours," Peterson said. "The certificates try to fill the gap for students trying to gain employment or add on to a degree."
In some cases, a specific certificate can help someone get a job, even if they do not have a full degree.
"Thinking about what we do here at Liberty, if someone came to us and had specific training through a certificate program, we would consider hiring them, even though they do not have a full degree," Peterson said.
Peterson also said that the most popular programs so far are biblical studies and theology, but leadership and accounting have also seen some larger enrollment numbers.
"Liberty is very intentional with the degrees they offer. We want to make sure we are equipping students to go and get the positions that they want, and the jobs that they are seeking," Peterson said. "We rely on a few outside agencies to help guide us in that process. One is the Bureau of Labor and Statistics. They publish findings of what they think will be areas of high employment in the years to come. We keep an eye on that reporting to make sure our new degrees match up with what the marketplace is hiring for."
Last year, Liberty Online had more than 81,000 students enrolled, and administration fully expects that these certificate programs will help that number grow.
"The great thing about online enrollment is the expansion of the mission of Liberty. We want to train men and women with the values, knowledge and skills to impact their world," Peterson said. "This program has helped to reach so many people and help spread our mission."