Memoirist Maya Angelou speaks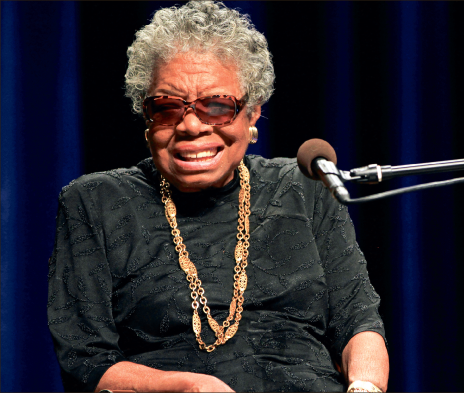 Randolph College hosted the acclaimed poet for a discussion about her rise from persecution and adversity
Celebrated poet and memoirist Maya Angelou spoke about the power of poetry to a crowded auditorium at Randolph College. Liberty University professor Karen Swallow Prior's women's literature class attended the lecture.
When the curtains opened Tuesday, Jan. 29 at 8 p.m. — one hour later than scheduled — Angelou stood to take a shaky little bow, settled down in her blanket-covered wheelchair, and then opened her mouth to sing.
"When it look like the sun will not shine anymore, God put a rainbow in the clouds," Angelou said.
According to her, poetry is that rainbow in the clouds — a thin ray of hope in a dark and dismal place.
"Poetry has kept us alive," Angelou said.
According to her, poetry brought the slaves through their bondage and also brought her through the struggles she faced growing up in a southern town like Stamps, Ark.
Through poetry, she said that she was able to rise out of persecution and adversity to become the woman she is today.
Angelou also recalled a time when she read all of the books shelved in the modest library of her hometown. Although she did not claim to understand everything she read at the time, Angelou said that Shakespeare's Sonnet 29 was one of her favorites.
Reading through his work, she was startled by how much it spoke to her own experience.
"I didn't care what they told me," Angelou said. "I was convinced that he was a little black girl."
Poetry has the power to unite cultures, generations and diversities, according to Angelou, and is a fundamental reason behind the survival of the human race.
"The poetry was written for you," Angelou said. "It's all for you."
Liberty students in attendance, including English major Mary Broughton, took the speaker's words to heart.
"Mary Angelou was just inspirational and precious," Broughton said after the address.
"My favorite quote from her was, 'When you know, you can teach. When you get, you can give.' She kept on talking about 'the rainbow coming through the clouds.' It was poetry that gave her hope."
However, students also mentioned some difficulties with actually getting into the building. Although there were two entrances into the Smith Hall Building where Angelou spoke, members of the community and out-of-town guests bunched together to form some semblance of a line hours before the doors opened at 6 p.m.
"(The event) was free, open to the public, but some groups could make reservations," Prior said. "I contacted them back in December — otherwise, it wouldn't have worked."
"I feel like my seat meant a lot, looking at how everybody was trying to get in," Liberty student Stephanie Young said. "I actually felt really bad, but also really grateful at the same time."
According to Young, she bypassed the long lines and entered the north entrance of the building along with Prior. However, some students were not so fortunate.
According to one member of the crowd, he had been waiting in line since 4 p.m. in hopes of getting into the building. Prior also mentioned that some people had traveled three hours to Randolph College just to hear Angelou speak.
Most students eventually made it into the building.
"All the security officers … really had it organized well, and they let them come right in," Prior said.
According to Prior, Randolph College had announced that Angelou was going to speak in December. Prior already knew that her students would be reading Angelou at some point during her course, and she thought that it would be a good experience for them to hear her speak.
"Hearing Maya Angelou is historical, even, and I really wanted my students to have a chance to do that," Prior said.