Introducing Arosto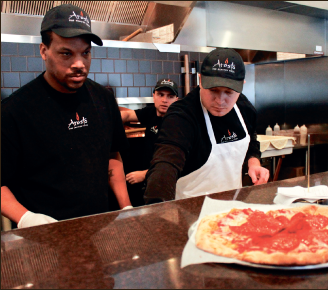 The City of Lynchburg is home to more than a dozen pizza restaurants. The newest addition is Arosto Fire Grilled Pizza, which opened Saturday, Jan. 19.
Arosto is owned by the AOP restaurant group in Lynchburg. According to Amanda Moore, a manager at Arosto, the opening also featured a drawing to win an iPad Mini.
Instead of the typical restaurant setting, where customers are served at their tables, Arosto offers faster service without the use of waiters. Customers order their food, receive a number, then sit down while the kitchen staff brings the order directly to the table.
"I loved this pizza, and I definitely plan on coming back for more soon," Christian Givens, a junior at Liberty University, said.
The menu includes salads, sandwiches, classic and specialty pizzas, as well as the option to create your own pizza. Creating a pizza gives customers the option to choose which type of cheese, toppings and sauce they prefer.
According to Moore, no pizza on the Arosto menu costs over $7.95. Arosto also does not charge extra for additional pizza toppings.
Managers Matthew Fauste and Moore typically sit and chat with customers during their visit to the restaurant.
"Arosto is good casual dining," Fauste said. "My favorite part about it is the casual style, the service and the great, fresh ingredients."
A note next to the counter informs customers that the charred edges of the pizza slices are the work of the 800-degree ovens behind the counter. As a new addition to Lynchburg, the fire-grilled aspect of Arosto sets the restaurant apart from others in the area.