Fashion show to wow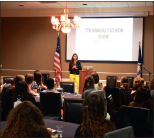 This year's show focuses on fashion in cinema
For seven years, Liberty students from all majors who are interested in fashion design have participated in Liberty's annual fashion show.
Three years ago, Liberty student Ruth Bibby initiated the designer launch party. The event prepares designers for meetings, fittings and workshops in preparation for the Spring Fashion Show.
This year's theme is Project Hollywood: A Glamorous Encore. Students must design a garment around a classic movie from the given list, which includes movies such as Casablanca, Superman and Jaws. According to this year's Designer Handbook, which explains the rules and guidelines for the show, students must give their top three movie choices along with an explanation of why they chose the movies. After an evaluation, their assignment will be given.
According to Matalie Howard, Assistant Professor of Family and Consumer Sciences (FACS), a student came up with the idea of having a fashion show seven years ago. When the show first started, only 135 people were in attendance. Now, the event has grown to more than 1,000 spectators.
"The main purpose of the launch party is for the designers to hear the theme for the upcoming show and to meet other designers who also want to pursue a career in fashion design," Ruth Bibby, the director of the fashion show, said.
Each year, Bibby chooses a theme for the show. Once the theme is given, student designers must work within the set guidelines to design their garments.
"It's really up to the designers and their skill level to determine how many looks they create. One's the minimum and the sky's the limit," Bibby said.
According to Howard, students are responsible for providing their own materials for their garments. When designing and planning their outfit for this year's show, students must keep in mind the two paths specified in the Designer Handbook. Their first option is costuming — designing something that would be seen in the movie or would be period-relevant.
The other option is a modern interpretation of the movie — designing a garment based on key elements from their movie, meaning that special attention would be given to the details of the film, not just the overall look.
"This is a time to show creativity in a big way," Howard said. "The biggest draw is for fashion merchandising, but we look to interior design to help decorate, the food department helps with the catering and family and child development just wants to help."
The Designer Launch Party even reaches beyond the FACS department. Graphic arts majors are involved with advertising, and student photographers attend the event to take pictures.
It is not even necessary to be a FACS major to design for the show. According to Howard, it is open to all majors interested in design.
"It is a time for students to showcase their talents," she said.
For more information on designing for the fashion show, email Bibby at rnbibby@liberty.edu.