Wasabi serves up Japanese cuisine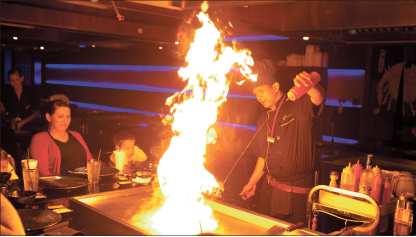 If you have not already heard, there is a new addition to Lynchburg restaurants, the Wasabi Japanese Steakhouse and Sushi Bar. Located at 3700 Candlers Mountain Road next to what many people know as the "dollar theater," this Japanese-style restaurant offers a wide variety of foods from sushi and seafood to hibachi chicken and steak.
According to the restaurant's website, Wasabi strives to provide a fun, inviting atmosphere for customers to come and relax as they enjoy great food with friends.
Wasabi combines Japanese culture and fine cuisine with great service in order to provide the customer with an environment of food and entertainment.
One of the many features that Wasabi offers is its hibachi grills. Diners can watch as their food is prepared right in front of them.
"We bring a new style of sushi to Lynchburg," General Manager Alan Hua said. "We do the hibachi grill, and our sushi is fresh. We are doing pretty good right now, but we want to do even better."
Hua sets his goals high, but he is confident that Wasabi will draw in its share of people.
"We want more people to know we are here," Hua said. "On the weekend, it is pretty packed, but on the weekdays, we would like to pick up more business. We opened on Sept. 28. We are a big restaurant, and I think in time, people will get to know about us."
Wasabi offers catering for events such as birthday parties, business meetings or special events. Open daily for lunch and dinner, business hours can be found online at the Wasabi Lynchburg website.
"My favorite thing was the sushi itself," Liberty University sophomore Sophie Bourret said. "It was made quickly, and (it was) wonderful. I definitely want to go there again."
Bourret came because of the food, but she enjoyed the entire experience at the new restaurant.
"I love sushi," Bourret said. "I saw the billboard for Wasabi on the road, and I really wanted to try it. I looked it up online and saw that they had reasonable prices for sushi. The food was absolutely delicious. I got a sushi entrée platter, which came with miso soup and a salad with ginger dressing — wicked good."
Impressed by both the food and the service, Bourret also appreciated the restaurant's way of doing business.
"The atmosphere was really friendly and relaxed," Bourret said. "Our waitress made sure we always had a drink and what we wanted. The service was top-notch, and the restaurant was very nicely decorated and fun."
Hua encourages students to come try Wasabi Japanese Steakhouse and Sushi Bar for a new dining experience.