Volleyball sets new team record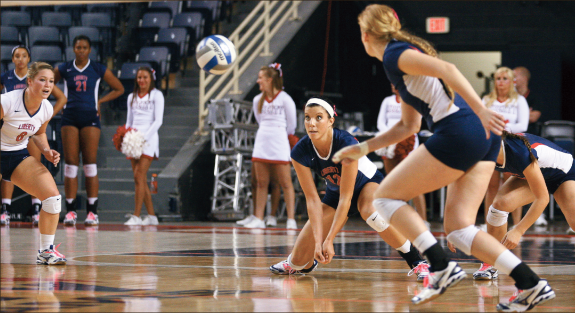 Lady Flames become Big South leaders after defeating Winthrop and Presbyterian over the weekend
The Liberty Flames volleyball team shattered its previous record conference home wins and emerged as Big South Conference leaders with a dominating win over Winthrop University Saturday, Oct. 20 in the Vines Center.
Notching their 19th straight conference win at home, the Lady Flames broke a record that was previously set from Oct. 15, 1996 through Nov. 9, 1999. Finishing with an attack of 79 percent, the Flames shut down the Eagles, sweeping three sets and bringing Winthrop's four-game winning streak to a halt.
"This week, we focused a lot on our offense, and it worked out this weekend," Head Coach Shane Pinder said. "We were very efficient. … We're really happy we got multiple attackers involved."
The Flames never trailed in the first set, getting off to an early lead from a kill by redshirt junior Kendle Rollins and capping off the set with a kill by junior Lillie Happel. Liberty took the first set by a final score of 25-20.
In the second set, however, the teams were knotted up 11 different times. After a timeout with Liberty leading 21-19, the Flames allowed Winthrop to score one more time, and then the set ended with the Flames winning 25-20.
In the third set, the Flames surged back from a 3-6 deficit to win the match with a score that mirrored the first two, 25-20.
Redshirt freshman Caroline Douglas led both teams with 14 kills on the afternoon.
"One thing that we know as a team is that we have an 'X' on our back because we are the defending champions from last year," Douglas said. "So we know that every team is coming after us, and so we have to go after them in the same exact way."
Douglas credited junior Jade Craycraft for her leadership and for teaching her "the ways of the team."
"Jade Craycraft has really done a nice job," Pinder said. "I think she had 41 assists today. That's a really great number for her in three sets. She's really starting to lead as a junior and take control of the offense."
Craycraft's total assists dwarfed all other players on the court, with the next highest number of assists being 21 by Winthrop's starting setter. Craycraft finished with 15 digs on the afternoon, which also led both teams. After the game, she said that, while the sets were close, she felt calm and confident in her team.
"It's always good to beat Winthrop," Craycraft said. "It's something that we've really been working hard for this whole week after coming off a loss from Coastal, so it was just really good to pull together as a team. … We're getting to the point of the season where I'm confident with our hitters."
Happel notched 12 kills and seven digs in the Flames victory. Senior Loren Thomas finished with 10 kills and a match-leading six blocks.
With the win, the Flames move to 17-7 overall and 7-2 in the Big South Conference.
They remain perfect at home in the season with seven straight wins, six of which have been determined in three straight sets. Dated back to last season, the Lady Flames have won 12 straight matches at home.
The Lady Flames begin a road trip, where they will face three conference rivals, the Radford Highlanders on Oct. 26, High Point Panthers on Nov. 2, and the Campbell Fighting Camels on Nov. 3. Liberty returns home to face UNC Asheville on Nov. 9.