Joe Biden rallies in Hill City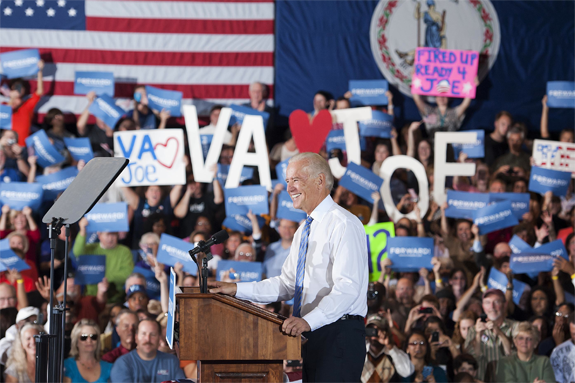 Surrounded by swarms of secret service agents, Vice President Joe Biden and his wife, Jill, made their way into Lynchburg, Saturday, Oct. 27, to rally for the re-election of President Barack Obama and himself.
According to a press release by the deputy fire marshal of Lynchburg, Thomas Goode, the Lynchburg City Armory nearly reached full capacity when 1,500 people gathered to hear remarks on women's rights, foreign policy and job growth in the United States by both of the Bidens.
Groups of excited Democrats, Independents and interested Republicans gathered hours before they were expected to arrive to find places to stand to see the vice president.
Rowdy fans hollered as Mayor Michael Gillette took the stage to introduce Joe Biden and fire up the crowd.
"As Lynchburgers, we've always come together to advance the best and to advance the common good for every one of our citizens here in Lynchburg," Gillette said. "I am inspired by (Joe Biden and Obama's) example, and we are fortunate (to have) their leadership."
The crowd cheered as the Bidens, unaccompanied by their son, Beau, made their way on stage.
Jill Biden started off the rally, thanking Lynchburg residents for their part in her husband and Obama's re-election campaign. Touching briefly on military affairs and education, she primarily focused on women's rights.
"I'm also involved in this election as a woman who cares about the direction of our country," Jill Biden said. "I've seen Barack and Joe stand up for our rights, our freedoms, every single day. The very first bill President Obama signed was the Lilly Ledbetter Fair (Pay Act of 2009)."
The Lilly Ledbetter Fair Pay Act of 2009 amended the Civil Rights Act of 1964 to include the 180-day statue of limitations in filing a lawsuit on pay discrimination for women to reset after each new paycheck that is in question. It was not the only women's right issue that Jill Biden addressed.
"The president and vice president know how important it is for women to make our own decisions about our own bodies," Jill Biden said. "So many women of my generation have fought hard for Roe v. Wade, for access to contraception and for equal rights. We don't want our daughters and our granddaughters to have to go back and fight those same battles that we fought decades ago."
After being introduced by his wife, Joe Biden stood behind the lectern and touched on women's suffrage, but not before messing up Senate candidate Tim Kaine's name.
"It's good to be here in a state (commonwealth) that's going to be represented by Tim Kaine. There isn't a more decent, honorable man. That man has more integrity in most fingers than most people have in their entire body," Joe Biden said. "I'm a big Tom Kaine fan."
Despite the slight slip up of Kaine's first name, Joe Biden sang tunes from previous speeches of Gov. Mitt Romney's "women in binders."
"Here's the truth: They have made it very clear (that) they don't have the same view on women's rights as we do. I'm willing to tell (the Romney administration) wants to turn the power back … to the day where they could charge women 50 percent more than men for the same policy, where they can label pregnancy a pre-existing condition," Joe Biden said. "When the governor was asked in the second debate, he was asked about how he felt about equal pay for equal work. What he'd do? He started talking about binders. Binders … of qualified women he learned were out there."
Moving past women's rights, Joe Biden claimed that the Republican Party candidates had very different views on foreign policy than he and Obama.
According to Joe Biden, as governor of Massachusetts, Romney was called a pioneer in outsourcing jobs.
"Mitt Romney has shown that he's very good at sending jobs overseas," Joe Biden said. "Well, I got news for the governor: the president's job is different. The president's job is to create jobs in America."
The vice president then transitioned to the topic of keeping the middle class strong and employed.
After the booming cheers of the crowd quieted down, Joe Biden explained his and Obama's plan of action if they were to be re-elected Nov. 6.
Cutting the growth of college tuition in half in the next 10 years, creating 100 new math and science teachers in the next decade, and creating "decent jobs" for the middle class are just some of the goals that Joe Biden mentioned he and Obama were hoping to accomplish if re-elected.
Muffling the chants of "four more years" from the crowd, he spoke on what he and Obama believed the America people stood for and what their opponents supposedly believed.
"We believe as I think you do. The American people are so much better, so much stronger, take so much more responsibility than these guys give them credit for," Joe Biden said. "Congressman Ryan writes about what he calls the culture of dependency in America. Gov. Romney constantly talks about the American decline. I don't recognize the country they're talking about."
According to Joe Biden, the United States is doing more now than before Obama took office. He also said that the U.S. is in a better position in the 21st century than any other nation in the world.
"America is not in decline," Joe Biden said. "Romney and Ryan are in denial."
Wrapping up his speech, the vice president spoke over the chants of the crowd with words of encouragement for voters.
"Virginia, we need you," Joe Biden said. "We win Virginia, we win this election."
Liberty University students at the rally had similar reactions to the speech.
"He was really raw, he really spoke to the people," Victoria Lind, a Liberty student volunteer for the Obama campaign and a registered Democrat, said. "He was very to the point. There wasn't a lot of lofty rhetoric involved."
According to Liberty junior and intern for the Obama for America campaign Kourtney Lewis-Allen, Obama and Biden are more in line with her views than Romney and Ryan.
"I think what attracts me most to Obama and Biden is the fact of giving not just equality, but fairness to all people," she said. "And it's fairness as in everyone has the opportunity."
Joe Biden was expected to campaign in Virginia Beach before Lynchburg, but because of the threat of Hurricane Sandy, the rally was canceled. Romney also had a campaign stop in Virginia Beach canceled because of the storm.