Business mogul Donald Trump visits Liberty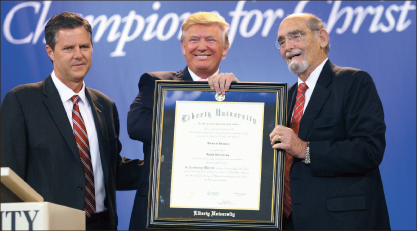 Swarms of students, Lynchburg residents and hungry media personnel gathered to listen to business billionaire Donald Trump speak on success and politics at Liberty University Monday, Sept. 24.
Trump, who received an honorary doctoral degree in business from Liberty, expressed his fear about where the country was heading under the Obama administration.
"Our country is in serious trouble," Trump said. "The world is laughing at us, and our leaders don't get it…. We just seem to have lost our edge."
Previously entertaining the idea of running for president, Trump began to support presidential candidate Mitt Romney after he dropped out of the race.
"I just want to see a very good man get elected," Trump said in an interview after convocation. "I think Mitt Romney will make a great president…. I think he is a very, very good man. I think he has a big heart. He's a man of great compassion."
Students who attended convocation expressed how transparent Trump was with his political views throughout his address.
"It was easy to see his political views," Liberty student Corey Macklin said. "He had my attention the entire time, though. He made tasteful jokes."
Primarily, Trump believes that the nation needs to reassess its standards before it can move forward.
"We have a country going in the wrong direction," he said during the interview. "If Obama is reelected, it's going to be, I think, catastrophic for the country."
Lightening the gloomy mood of politics, Trump switched gears half-way through his speech and spoke about how to become a successful person in life.
"You have to have an ability to handle pressure. People (who) can handle pressure can be entrepreneurs, can be successful," Trump said.
No one, he jokingly said, has had to handle more pressure than himself. According to his biography, Trump is a realty developer, co-owns the Miss Universe, Miss USA and Miss Teen USA pageants, and has starred in and produced his own reality show, "The Apprentice."
Joining Trump for added support were winners of the Miss Universe and Miss USA pageants, who happened to be in town at the time. They believe that Trump is not only one of the most successful people to work for, but also one of the best.
"He is a wonderful boss to work for," Miss USA 2005 Chelsea Cooley said. "His guidance and experience in business makes him the perfect person to head up the Miss Universe pageant."
Students felt that his advice on business and success was well put.
"I thought he did a great job. He was funnier than I expected, refreshingly blunt, and he managed to both good-naturedly poke fun at Jerry and the university and compliment them at the same time," Liberty student Julia Cummings said. "I'm glad it wasn't all about politics, either."
According to Trump, the most important thing one can take into consideration when planning for a career is whether one is passionate for that field of study.
"I always say to people, 'You gotta love what you do,'" Trump said. "You work harder (that way)."
After convocation, Trump complimented the university on what it has done in such a short amount of time.
"It's an honor to be here," Trump said during the interview. "I was very impressed with what (Liberty has) done…. I've seen what they did, where they came from and the short time they've done it," Trump said. "You look at Harvard and you look at the Wharton's School of Finance over a long period of time, and what (Liberty) has done in a short period of time is incredible. It's truly one of the great universities in this country."