Relient K and House of Heroes perform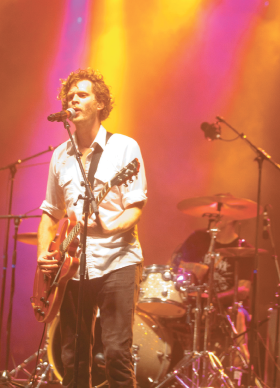 Liberty students' spirits were still high at the annual block party as rain drenched everyone in attendance
The down-pouring rain did not wash the throngs of drenched Liberty University students away as fans of Relient K and House of Heroes inched towards the stage at Liberty's annual block party, Saturday, Aug. 25.
Ferris wheels, carnival rides and free air-brushed tattoos were among some of the options students enjoyed as they waited for their favorite bands to take the stage.
Patrick Spencer, a junior at Liberty, said that despite the rain, he was excited to see a free concert from the band he has been a fan of since elementary school.
"I've never seen them live, so I think it'll be pretty cool," Spencer said before the event.
As the students prepared to hear the Relient K and House of Heroes set list, Jon Schneck, guitar player and back-up vocals for Relient K, sat down with the Liberty media to answer a few questions.
Schneck, who is attending Liberty University Online (LUO), said that after going through all of his options for attending college, his decision to attend Liberty appeared easy.
"It just seemed like a good fit," Schneck said. "My dad is a Baptist preacher. He was really excited that I was going to come here. You know, it just sort of made sense."
Majoring in business, Schneck is preparing for whatever life holds, including life after Relient K. Although he does not know what specialization to take yet, he said he feels that Liberty will help him achieve his goals.
"I don't really know what I'm going to do, or what I want to do. I'm trying to figure that out as I go along," Schneck said. "[I'd like to do] something fun that pays well."
Life on the road makes getting an education hard, Schneck said, but LUO's online education options makes taking courses easy.
"There's so little to do other than play our show, which lasts about an hour a day, so there's plenty of [spare] time on the road," Schneck said. "I can spend the rest of [the time] studying."
Preparing with the band for the block party concert, Schneck did not let the threat of weather rain on his outlook. While Relient K doesn't have any pre-show traditions or rituals, Schneck said, the band likes to have fun and feed off audience members during their shows.
"I like to run around and jump around the stage and act silly [while performing]," Schneck said.
Even though Schneck calls himself the "least artistic artist," his face lit up as he began to speak about performing, his eyes conveying an artist's passion.
"[Performing] has been awesome. Probably the best," Schneck said. "[It's] one of those things that you dream about when you're a kid. Playing music for a living, it doesn't get much better than that."
The crowds of people that surrounded the block party stage were equally as excited to hear Schneck and his band mates play.
A couple inches of rain soaked the feet of fans, but the energy in the crowd never faltered.
Liberty's annual block party is one of many events hosted by Student Activities. For more information about upcoming events and how to be involved, visit their website at liberty.edu/campusrec/studentactivities or call 434-592-3061.
For more information about Relient K and their future tour dates, visit their website at relientk.com.