Hancock Welcome Center nearing completion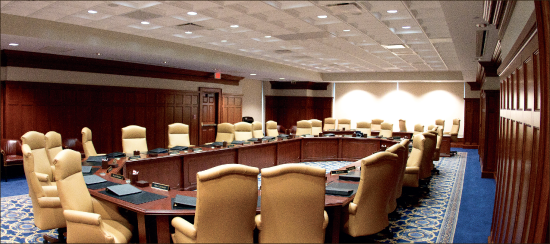 Building expected to open by mid-June
Dirt, hard hats and backhoes, all signs of construction, have been evident on the hill across from Williams Stadium day after day for anyone who walks or drives through campus, but people may have forgotten that construction began on the three-level, 33,000 square-foot Hancock Welcome Center in March 2011.
"The university decided that this building truly needed to be special and a flagship unlike anything else we had ever constructed," Alan Askew, construction coordinator for the university, said.
"It is exciting to continue to raise the bar with each new structure at Liberty. After Hancock, the new library will continue that trend," said Chancellor Jerry Falwell Jr. "The Hancock Center will be a silent statement to prospective students and their families that Liberty is a warm and welcoming Christian university and that providing a quality Christian education to students is its top priority."
The completion date of the Jeffersonian-style building was originally scheduled for October, but the deadline was extended to allow for more details to the interior. According to the university's website, designers wanted to be assured that the newest technologies and amenities could be incorporated into the new building.
Students and faculty are no strangers to construction across the campus of Liberty University. In less than a year, there have been five major construction projects completed either on or nearby the campus.
The Wards Road pedestrian bridge opened in November 2011. Shortly after, the 200-foot-long pedestrian tunnel, which connects campus to Wards Road, was completed. Regents Parkway, the perimeter road that borders the west side of campus, was also extended from Sonic to the circle dorms on south campus.
The university also constructed a double-sided press box and bleacher seating to separate two east campus athletic fields for field hockey and lacrosse as well Liberty's club and intramural programs. Finally, the new Schilling Center is the latest addition to the LaHaye Student Union.
In all of that time, the visually stunning welcome center has continued to undergo changes and developments.
According to Askew, while the initial October goal was a stretch, the six-month redesign of the entire interior of the facility halted basically all of the interior construction during that time.
Askew says that construction crews are currently finishing a few items on the upper two floors and are about halfway done with the terrace, or lower level.
"We will be completely done with the top two floors by the time graduation weekend arrives, and we hope to have the terrace level and the remainder of the exterior landscaping completed by the first half of June," Askew said.
At that point, the building will be ready for use, and the visitor center staff will begin to occupy the building, moving from their current location in the grand lobby of the Arthur S. DeMoss Learning Center.
"It truly is a remarkable building," Askew said. "It was interesting to watch the contractors begin to take ownership of and pride in their work as the project progressed."