Liberty Belles' chili cook-off supports air race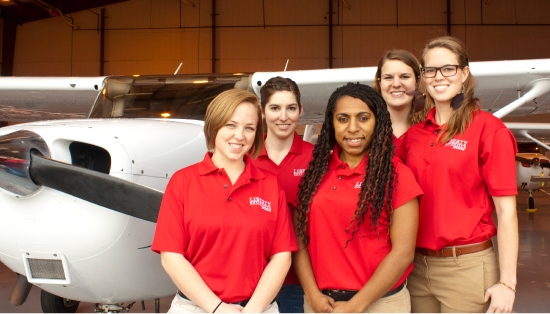 The Liberty Belles, Liberty University School of Aeronautics' two Air Race Classic teams, held a chili cook-off April 16 to raise money for the upcoming transcontinental race.
A $5 donation earned each attendee access to all-you-can-eat chili from 13 different entries. Vice Chancellor Dr. Ron Godwin, School of Aeronautics Dean Gen. Dave Young and Associate Dean Capt. Ernie Rogers judged the contest.
Prizes for the top three contestants included a free discovery flight in the school's Piper Cub aircraft to a School of Aeronautics T-shirt and a Freedom Aviation hat and lanyard.
"The Piper Cub is our tail wheel plane, so everybody's pretty excited about that one," Liberty Belles dispatcher, weatherwoman and logistics officer Aly Boardman said.
The Liberty Belles need a total of $20,000 to cover the costs of the race, and they are working to raise most of their funds through sponsors by selling the flight by legs or miles to various businesses, Boardman said.
"Right now, just on fundraising, we have $700, but we are in the process of finding potential donors and sponsors," she said.
Pilots who have completed the race before help teams prepare for this year's contest. The Air Race Classic assigns "Mother Bird/Baby Bird" teams each year to mentor new racers.
"They pair up a team that has raced in the past with a team for whom this is their first race," coach and 2011 Air Race Classic winner Sarah Morris said. "The Mother Bird team is available to help the Baby Bird team with the countless questions they have, as well as to mentor them before and throughout the race as needed. It is also a great networking tool for the Baby Bird teams — to help them get to know other pilots competing in the Air Race."
Morris and team member Naomi Satterfield said Young and the School of Aeronautics have been "a huge help," particularly by helping to find sponsors and providing two free flights — one as a drawing and the other for the chili cook-off winner.
Besides fundraising, the teams have focused on training for the race. Practice will pick up this week, as the June race approaches.
"Thus far, we have been primarily focused on fundraising and learning the rules," Morris said. "We are currently learning flight planning tools and techniques that will help them during the race. Next week we will begin doing simulator flights to help them learn the decision-making process that comes into play during the race, and we will fly some mock race routes."
The pilots themselves are excited for the imminent contest, even though they "don't know what to expect," Satterfield said.
"It's very surreal — it's a big thing, and I don't think I realize just how big it is," she said. "I don't think I'll realize until I get to that last airport after flying twice across the country."
As for the cook-off, it helped to raise funds for the trip and increase awareness at Liberty of the Liberty Belles and the Air Race Classic itself. The winners of the cook-off were, from first to third place, Brian Dollanarte, Luke and Tracy Hamer and Joe Leonard.
"The fundraiser went really well," Morris said. "We raised $230, which pays for nearly 60 miles of the race. We still have a long way to go with fundraising, but we are confident we will meet our goal of $20,000."
Anyone interested in donating to the Liberty Belles or sponsoring part of the race can email them at LibertyBellesARC@yahoo.com.