Colson dies at 80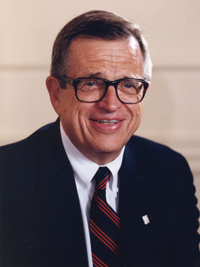 Famous evangelist and former special counsel to Richard Nixon, Charles "Chuck" Colson, died of a brain hemorrhage Saturday, April 21, at the age of 80.
After battling the brain injury since his hospitalization March 31, Colson died at a Northern Virginia hospital with his family by his side, according to a news release from his representatives.
Colson is remembered for presenting the Christian worldview through his prolific writing and speaking and his Colson Center. The Boston native is perhaps best remembered, however, for his tireless support of prisoners, ex-prisoners and their families through his Prison Fellowship ministry.
"Prison Fellowship is the largest prison ministry in the world," a personal friend of Colson, Chaplain Dan Croce, said. "No prison ministry comes close to Prison Fellowship — none."
Colson founded Prison Fellowship after serving time in federal prison for his role in the Watergate scandal. Colson became a Christian just before he went to jail and worked to help fellow inmates.
Croce, a former Massachusetts inmate who became a Christian in the late 80s, serves as a chaplain with his New Hope Correctional ministry and works with Prison Fellowship.
Croce's first contact with Prison Fellowship was while he was serving time in Plymouth County Correctional Facility in 1985. An Angel Tree representative — part of Prison Fellowship in which volunteers buy and deliver Christmas presents to inmates' children in their parents' names during the holidays — told the inmates about the organization.
"I said, 'What? You're gonna do what?'" Croce said. "I was shocked — I was almost ready to cry, and my eyes were watering up — I couldn't believe somebody would buy presents for an inmate's children."
Following his release from jail in 1986, Croce met Colson at church in Holbrook, Mass. while he was applying for the Charles Colson Scholarship to attend Wheaton College. Croce received the scholarship and graduated from Wheaton in 1995. Colson later used Croce's testimony in his book "How Now Shall We Live?"
"If he asked me to come speak at a banquet in Virginia or California or Arizona or Florida, the answer was always, 'Yes,'" Croce said. "What could I do, the guy gave me an education — a very expensive education — and I was very grateful. If he asked, I was there. It was a privilege to be around him."
Croce said he was both heartbroken and glad when he heard that Colson had died Saturday.
"I'm glad he's with the Lord, but I'm going to miss him so much," Croce said. "He was just such a good guy."
Colson was brilliant, Croce said. With his wit and directness, Colson could say "in two sentences what other people would have to write two pages on."
"I never met a smarter guy in my life — never," Croce said. "Theologically, Chuck told me he wished he had a little more theological education. He was not one to just learn, he had to act and live out what he believed. Chuck walked the walk. He was just the best."