'Don't settle'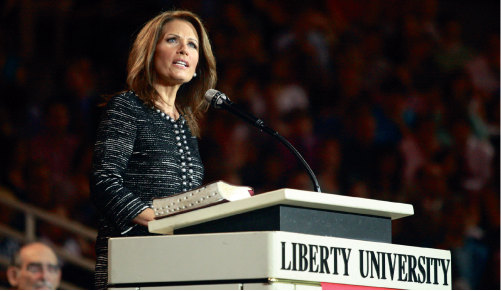 Bachmann delivers speech at Liberty
Presidential candidate Michele Bachmann addressed Liberty University students, faculty and staff during the school's thrice-weekly convocation Wednesday, Sept. 28. Bachmann's faith-based message challenged audience members to not settle.
"Don't take your life; don't take this university; don't take the future of the most magnificent country that God has ever bequeathed — the United States of America — (for granted)," Bachmann said. "Don't settle for anything less than what this great and almighty God has planned for you."
Bachmann used her own life as an example for not settling, encouraging the audience to seek God's plan.
"He has planned greatness for your personal life, greatness for your marriage, greatness for your children, greatness for your career, greatness for this nation," Bachmann said. "It may not be that you become a millionaire, or maybe you do, but it may be, and it will be, that you walk out his plan for you. You see, that is greatness — fulfilling his plan."
During her presentation, Bachmann shared a Bible verse with students that she considers to be a motto for her life — 2 Corinthians 3:17, which is also the theme verse for Liberty.
"So, I join the founder of this marvelous institution, Dr. Jerry Falwell, and encourage you, my beloved in Jesus Christ, do not settle," Bachmann said. "Fulfill his plan. You've only had the very foretaste of what he has planned for you. Do it all. Give it your all. Don't settle."
Chancellor Jerry Falwell Jr. said Bachmann's trademark is "Courage and determination" in his introduction of her, as he expressed his excitement "about having another presidential candidate speak at Liberty."
Bachmann's appearance marks the university's fifth presidential candidate to speak at the school. Candidates Herman Cain, Ron Paul, Newt Gingrich and Rick Perry have visited Liberty in the past two years, Falwell said. Tim Cain also appeared in convocation as a representative for President Obama, he said.
"She seems to be the one that most (students) mention," Falwell said. "Her background is similar to those here at Liberty. She's one of us. Her tea party position is popular here, too."
Following the convocation service, Bachmann held a press conference, where she answered questions on key issues concerning political policies and her candidacy.
"The first bill that I would send to Congress would be one to turn the economy around. And that would be dealing with the Tax Code," Bachmann said. "I want to see us have, potentially, the lowest corporate tax rate. I would like to see that, but I wouldn't stop there. I would have an entire package of job creation and initiatives that would begin with a zero percent repatriation tax."
More than $1.2 trillion of income that is earned is by American corporations overseas, according to Bachmann, adding that "in Ireland, there's currently 600 American companies, and they employ 100, 000 people." Her bill, she said, would bring both the "money and jobs back to the United States."
"We need to bring that money in and lower the corporate tax rate because I am not willing to just have that money come into the United States. I want the jobs and companies to come back," Bachmann said.
Bachmann believes that in addition to lowering the tax burden, the regulatory burden must be diminished, as "the regulatory burden is approximately $1.8 trillion a year," Bachmann said.
"As I talk to business owners and job creators all across America, they tell me the number one reason why they are not hiring is the regulatory burden, and the chief regulatory burden is Obamacare," Bachmann said.
In conjunction with Bachmann's stance on jobs, she was asked to respond to President Obama's recent jobs plan. She spoke of a job creator in Iowa who summed up Obama's plan "in one word: Disaster," she said. Bachmann said she has heard similar responses from all around the country.
"The president's job creation plan isn't about jobs, it's about his political re-election," Bachmann said. "We need to be about the American people, we need to be about their business, which is turning the economy around. This can't be about the president's re-election."
Her third place ranking in the polls, the same as former nominee John McCain, gives her confidence, as "we intend to be the comeback kid in this race," she said.
"I won the Iowa straw poll. The Iowa straw poll is most reflective of a general election or of a primary election," Bachmann said. "Iowa will be the first caucus state in the nation, and we won that state in less time than anyone that had ever participated in the Iowa straw poll. I am also the first woman ever, in history, to win the Iowa straw poll."
Bachmann believes that the American people "think that Barack Obama will be a one-term president," she said.
"That's why we can't settle with our nominee," Bachmann said. "We need to have as our nominee a bold, strong, constitutional conservative, who will be strong on national security policy, which I am. (We) also need a strong fiscal conservative and also a strong tea partier. I represent that whole package, and I look forward to being the nominee of the Republican Party."