Bachmann to visit Liberty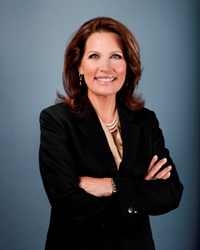 Michele Bachmann stands alone as the only woman to declare her candidacy as a Republican Party presidential candidate, and she will make her way to Liberty University on Sept. 28.
The republican Representative from Minnesota will speak in Wednesday's convocation, sandwiched between speakers Eric Metaxas and Ed Hindson. Bachmann is one of four women scheduled to speak in convocation this semester.
Bachmann will be the second GOP presidential candidate to speak in convocation. The first was Texas Gov. Rick Perry.
"It is…a compliment to Liberty, and to our student body, that leader after leader covets the opportunity to address our student body," Teaching Pastor and Vice President of Executive Projects and Spiritual Programs Johnnie Moore said. "They are all convinced that Liberty University is pivotal to the future of our nation. We are preparing the leaders of the next generation."
Bachmann was first elected into Congress in 2006 and was the first republican woman to represent Minnesota in the U.S. House of Representatives. She is currently serving her third term.
"Bachmann is among the most well-known leaders in the nation," Moore said. "So, I am interested to hear what she has to say to America's most unique gathering at America's most unique university."
Highly notable is Bachmann's involvement in the Tea Party. The mother of five hosted the first Tea Party Caucus in July 2010.
"(Bachmann) is seen as a champion of Tea Party values including the call for lower taxes, renewed focus on the Constitution and the need to shrink the size of government," Bachmann's campaign website said.
Liberty seeks to deliver to students a well-rounded experience through convocation speakers, reaching students in various spheres of study, Moore said. Featuring political candidates and government officials in convocation not only provides students with knowledge regarding the upcoming election, but it also speaks to government majors much like authors would reach English majors.
"(Bachmann's) remarks will … probably be similar in tone to those given by Rick Perry recently," Moore said.
"Having these candidates speak in convo is a part of the election process and it is a good way to educate yourself," Student Body President Cody May said. "Liberty University is the largest Evangelical Christian University and we should all have a part in the process of choosing our future leaders which includes hearing what they have to say."
Bachmann focuses her campaign on issues ranging from tax reform to religious liberties. According to her campaign website, Bachman believes government has grown extraordinarily large and results of that, such as Obama's Patient Protection and Affordable Care Act, should be abolished.
The Winona State University graduate seeks to renew government focus on the Constitution. Bachmann champions tax reform and wants to diminish wasteful government spending, according to her website.
"I am looking forward to her speaking," May said. "I have wanted to see and hear her in person and hear the views and policies that she is running on. I also want to hear her testimony because above all else, America needs someone in office who is led by the Lord. How can someone lead this country correctly if they do not have a relationship with the Lord?"