Target's After Hours event hits bullseye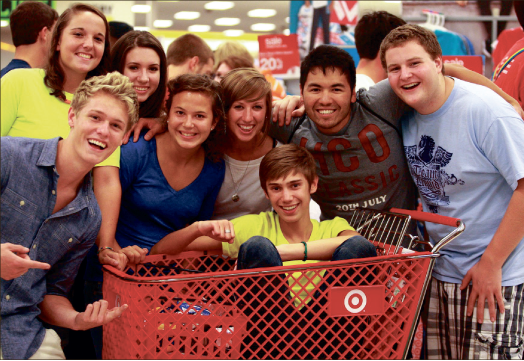 A line of students wrapped around Lynchburg's Target department store, August 19, waiting patiently for its large glass doors to finally open.
With empty shopping carts and wish lists in hand, each student was greeted by volunteers dressed in Target's signature red and white, welcoming them into Target's Second Annual Exclusive After-Hours Shopping Event.
This late night event, held exclusively for Liberty University students, started at 10:30 p.m. and lasted until 12:30 a.m. With free samples from event sponsors and special discounts throughout the store, students filled their arms with what they needed for the upcoming school year.
"I just moved into my house off campus, and I needed a lot of stuff," senior Jessica Thomas said. "I've found a T.V. stand for $20 and a book shelf for $13. I'm hoping to furnish my house with Target stuff."
For many students, seeing was believing. Hearing of last year's event, many students wanted to see if the event lived up to the rumors.
"I heard that the Target event is better than Black Friday," freshman Rachel Mayberry said. Less than an hour into her trip, she had already started to fill her cart. "(I'll) come again next year."
Although many Target stores hold events for major universities, the response from last year's event has encouraged greater sponsorship from outside companies.
"Vitamin Water (is) being given out at the door. Skittles, Starbursts and Snickers are all being given out around the store," store manager Jay Furnas said. "We also have Kraft macaroni and cheese (samples)."
The shopping extravaganza was made complete with an appearance by Target's mascot, Bullseye the Dog, and a clothing department converted into a dance floor.
As the DJ played, students dropped their goods and joined the fun, line dancing and bouncing to the beat coming from the speakers.
"I think (the Target event) is a great place to hang out with all the music and people," sophomore John Kwak said. "I'm having a great time."
Liberty students volunteered their time to help the event run successfully. Many helped by giving out samples and gift bags, even walking around and welcoming shoppers.
"It was a good way to welcome students back to the college to get them started off on the right foot for the new school year," senior Noah Edwards said. "It's been cool to meet all the new students and to welcome them to life at Liberty."
For Furnas, the back to school shopping event is perfect for fostering a strong relationship with the Liberty community.
"It's a way for us to connect with the Liberty community," Furnas said. "We want Liberty students to feel at home at Target."
In a total of two hours, Target saw an estimated 4000 customers, many of them walking out with red and white bags filled with goods to furnish their rooms or apartments.
For Human Resources manager Ruth Ash, hosting an event specifically for Liberty students was a source of joy.
"It's fun having Liberty students here," Ash said. "We're looking forward to having this event for as many years as we can."