Student Activities saddles up for horseback riding trip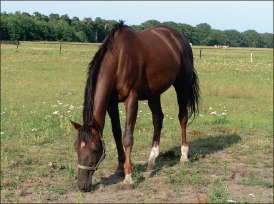 Two sessions set for September
Doors fly open and slam shut. Squeaky shoes protect rushing feet. Students laugh and yell across the room in order to greet friends they have not seen in quite a while. Construction, drink machines and the jingle of car keys add their own personal sounds to the chaotic chorus. Welcome to the new academic year.
While the familiar bustle and lack of parking places may start out as nothing more than something to complain to friends about, the routine soon becomes tiresome. Smiles quickly turn as sour as three week old milk and all that is asked and prayed for during this time is a moment of peace to keep us sane.
Liberty University, together with Reba Farm Inn and Saddle Soar Equitainment, has provided a way for students to experience such a peace. A horseback riding trip is set to take place at the picturesque farm and will be offered specifically to Liberty students. Mike Ellsworth, an event staff member for Student Activities at Liberty, as well as a wrangler at Reba Farm Inn, gave good reason for stressed out college students to spend an afternoon riding through the countryside.
"Horseback riding is one of the most peaceful things to do outdoors. I think it's because you are just completely surrounded by natural beauty, and there are no cars or man-made noises around," Ellsworth said.
Horseback riding ventures have been offered through Reba Farm Inn for several years, according to Ellsworth.
"Students who go on the trip are always impressed with the experience," Ellsworth said.
The trip is not only for those ready to ride in the rodeo. Reba Farm Inn makes sure to take good care of less experienced riders.
"The wranglers accompany each trail ride and help to teach beginners, as well as to monitor the safety of all riders," Ellsworth said.
Reba Farm Inn not only makes the trip possible for students at every skill level, but they also understand that not all students are able or willing to show up at 8 a.m.
According to Stephanie Ward, promotions manager of Student Activities at Liberty, there are 44 total spots available for the trip. One trip, Sept. 3, will have two sessions. One will take place from 8 a.m. to 2 p.m., and the other from noon to 6 p.m., so all students can participate, whether looking for a refreshing morning venture, or a unique day trip experience.
Should the Sept. 3 trip fill up fast, those still wishing for a moment of tranquility need not worry. On Sept. 9, an evening horseback riding trip will be offered, where Ellsworth said that "guests can enjoy a magnificent moonlight view of the Peaks of Otter."
"We know it's impossible that every student will want to attend every event, so we strive to provide a wide range of events hoping that students find something they enjoy. Events such as horseback riding are provided to students low at cost to give [them] the opportunity to create a unity amongst the student body," Ward said.
For $15 and a quick stop by the Student Activities office, students have the opportunity to attend an event that, according to Ellsworth, "immerses you in God's creation."
For more information, contact the Student Activities office by calling 592-3061 or email studentactivitiesinfo@liberty.edu.