Option LU generates buzz on campus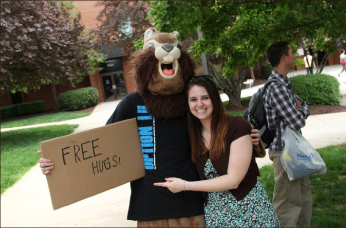 Creating an atmosphere of fun and interaction in the midst of the end-of-the-semester blues was the goal of Option LU as they hosted an afternoon party at the courtyard behind DeMoss on Wednesday, April 20. The event included games, pie tosses and free treats for students who stopped by to participate.
"Not a whole lot of people really know about (Option LU) on campus, so we decided to get out in the courtyard and do something different," co-producer Tatiana Almeida said. "A lot of people stopped by and gave interviews on camera. We had a great response, bigger than we were expecting."
Option LU began in the fall of 2009 as Producer Kelly D'Ambrosio was completing an independent study, creating a television show for Liberty University.
"I always hated that the communication students would make such spectacular movies for their classes and no one would ever see them except their classmates and their families," D'Ambrosio said. "Why should we let such talent and hard work go to waste?"
D'Ambrosio soon teamed up with communications professor Bill Dewhurst, and came on full-time in the spring of 2009 to begin the student-run news program known today as Option LU.
Over the past two years the show has grown in quality and popularity, going from zero fans on its Facebook page to over 1,500 today.
"The feedback we have been getting from the viewing audience has been terrific. We continue to grow viewers and 'likes' on Facebook each month," D'Ambrosio said. "We really hope to be a show that the students look forward to watching each week."
As the show continues to grow, D'Ambrosio said the goal behind its early beginnings still remains true.
"My goal for Option LU is to allow the communication students to gain practical, hands on experience that they can take with them when they leave," D'Ambrosio said. "I want the communication students to leave Liberty feeling knowledgeable and prepared."