RMA winner promotes Buy Local campaign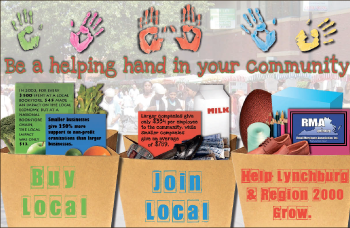 Broadcast major wins graphics contest
Jennifer Mellinger won a prize just for doing her homework. Mellinger, who thought nothing of submitting a poster she designed to a contest held by Lynchburg's Retail Merchants Association (RMA), was surprised when she was told over winter break that she had not only won but also would receive a prize of $500. Mellinger had never even pictured herself pursuing a career in graphic design.
"It was a shock. It was quite a shock," Mellinger said.
The sophomore from Lancaster, Pa., was simply taking the obligatory desktop publishing course for her communications major. Specializing in broadcasting, Mellinger was never really interested in graphic design beside the recreational scrapbooking or art classes.
RMA sponsored the contest as part of the association's recent Buy Local campaign. According to RMA's website, the campaign's purpose is to encourage citizens to buy locally, enriching the local economy.
The contest was open to anyone from high school juniors to college seniors. A $500 scholarship was the prize. The winner's poster would be displayed in Lynchburg, Campbell County and Rustburg, Va. in the coming year.
Professor Sabrena Deal made the contest a project in her class last semester. Deal assigned the poster to her students, leaving them the option of submitting it in the contest.
"I think the contests are valuable to students because they have the opportunity to design for someone other than themselves and their instructors," Deal said.
As Mellinger worked on the design of her poster, she tried for something different.
"You kind of get stuck in these design grooves. I wanted to do something that wasn't in that," Mellinger said.
The concept of the grocery bags on the front of her poster was one of those ways she tried to make her design different.
"I wasn't sure if it was going to work out," Mellinger said.
Along with the design of the poster, Mellinger needed to research local buying.
"One of the rules was that we found three facts about the topic we picked. That was difficult, too, because there's not a lot out there," Mellinger said.
Most difficult for Mellinger was the time invested into her project. She estimates she spent four to five hours a night on the poster. The final product is a colorful, educational and unique poster.
"I think her poster did a good job appealing to people across age groups and was very well organized," Deal said.
Deal accepted the check for Mellinger, who was on Christmas break when the winner was announced. The check was officially presented to Mellinger in the grand lobby of DeMoss Hall on Feb. 17.
While this accomplishment has been exciting, Mellinger is not looking to make graphic design her career.
"I like doing it, but I don't know if I want to do it for a career," Mellinger said.
According to Mellinger, she believes the skill will come in handy in her search for a job.