Embracing the exceptional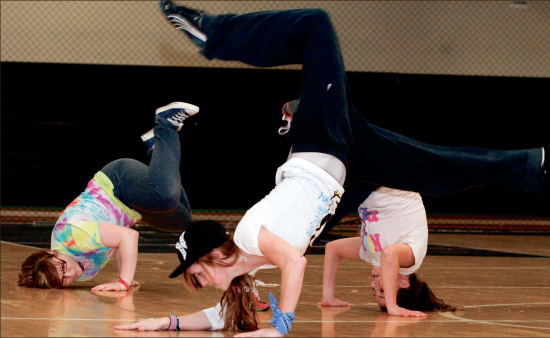 Food, games, music and hearts for children brought students together Thursday night to support Liberty University's chapter of Council for Exceptional Children's (CEC) at their Exceptional-A-Thon.
The event was CEC's first big fundraiser of the year. Students were asked to give five dollar donations which went toward the funding of future CEC events. The Exceptional-A-Thon was held in Liberty's Tolsma Indoor Track from 9 p.m. to 1 a.m. where students were provided with games and entertainment acts throughout the night.
The groups included D-Trex, Peacemakers Crew and Divine Call. Among the musical talents, was the headlining act, Bring the Arsenal, who closed the event with their loud, hardcore guitar riffs.
The event coordinator, Kristin Light said their CEC chapter is trying to branch out to not only the special education majors or all education majors, but to people who are not even in education.
"A lot of people, even if they're not education majors, would really benefit from working with kids with special needs," Light said. "They're such a blessing to work with. Kids are a blessing anyway."
CEC is an international non-profit organization. According to its official website, "CEC is an international community of educators who are the voice and vision of special and gifted education" and/that "works to improve the educational success of individuals with disabilities and/or gifts and talents."
Liberty's student chapter exists to educate the special education majors with resources such as chapter meetings with guest speakers who have special needs themselves and events that give the students the opportunity to actually work with the children.
CEC partners with Thomas Road Baptist Church's (TRBC) iKids ministry to hold special events for the children, in order to give their parents a night out or to simply give them a break from what is sometimes a challenging daily routine, according to Light.
"We give them a date night, a few hours to go shopping and get things done and have a little break so we can love on their kids. It's a great opportunity and an awesome way to witness and minister," board member, Kaylan Reese said. "We're able to provide care for the kids and show them Christ's love."
Reese said she loves having the chance to be part of an organization that puts these children first and provides education resources.
"A lot of people are scared of people who look different than them or who have special needs because they don't know how to interact with them," Reese said. They, too, are made in the image of God. I think that it's important for people to be aware of who these people are, what the special needs are, and that they're made just as special as we are. I think it's something that is ignored. The Bible does tell us to reach out to them and by reaching out to them, we are pleasing the Lord."
"We try to do as much as we can for children with special needs," Light said, "They are our heart. They are our focus."
For more information about CEC, visit its website at cec.sped.org. For more information about Liberty's CEC chapter and future events, find and join the group on Facebook.