Working to save lives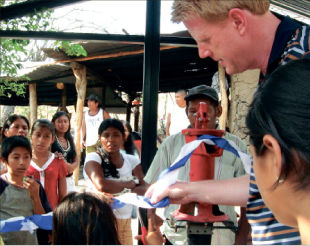 Godparent Home mom raises money to build well in Guatemala
A small, dark-haired woman scurries efficiently around the large kitchen, tidying everyone's messes, stirring the sloppy joe mix, offering food, answering questions, calling out short orders and occasionally munching on a fry or two as she boiled them in vegetable oil.
"I usually bake them, but today they didn't want them baked," she said with a slight roll of her eyes.
Kay Hall is used to working hard to please the demanding hormones and appetites of the nearly dozen pregnant women in her care.
Hall lives in Forest with her husband Dick who works at BGF Industrial in Alta Vista. She owns a floral shop called 'Sheer Elegance' and has been working in the Liberty Godparent Home as a home mom for eight years. When asked what her duties are she laughs and says, "Everything."
Hall is cheery and vivacious talking about her work, her family and the girls at the home. However, the second she brings up the name of her grandson Joshua, who died in a shooting two years ago, streams of tears pour out of her eyes and her strong voice becomes quiet and cracked.
"I need to see something good from this — something that lives on," Hall said.
Hall has worked as a Sunday school teacher and AWANA leader for over 20 years. She loves God and knows the Bible, but last February when she went on a mission trip to Guatemala, her way of thinking changed. Working among poverty stricken villagers who ate only the beans and rice World Help gave them, lived in shoddy shelters of mud, scrap metal and wood, and drank the same water they bathed in, Hall and her husband were struck by the needs of others.
One day, Hall was boarding the bus after handing out food rations and being followed around by a young mother and her two little girls. Hall's husband Dick handed her a water that she was to drink to keep from getting heat stroke. She looked up and saw the trio standing together. One of the little girls was only three years old, and she looked up into Hall's eyes then down at her water bottle, then back into her eyes.
"She was asking me for the water," Hall said.
When Hall gave the bottle to the little girl, she cradled the water and her face lit up with a smile "Just like a lifetime movie," Hall said.
On the bus, the Halls and the rest of those on the trip were quiet and contemplative.
"No one could speak. We just looked at each other."
When Carlos Vargous, the director of the compound where they worked got on the bus, Hall told him, "I feel so guilty… so bad."
Hall described his response as straight from God — out of the integrity of his heart.
"Oh no, no! Do not feel guilty. That is not from God. That is from the devil. You cannot help everyone. Maybe you can help one. Maybe you can help two. Maybe you can just pray or tell someone who can help," Carlos said.
Carlos' words replayed in Hall's mind, but she felt helpless to tell people.
"I don't know people with that kind of money. I only know people who work hard every day," she said.
Despite this, she decided to trust God and just sit down and write her plan of action in a Christmas card.
The card read: "Our letter this year is different than years before… we would like to help change (a) small village and build a well in our grandson's name. It would be called 'Joshua's Well' and that would help other children live in memory of Josh. If you could help us with this in any way, even the smallest gift would help bring life to many."
She only sent it to 150 people. The money was to be sent in to World Help.
When Joshua's mother, Tammy Cupp, received the card, she called Hall immediately and told her that it was exactly the kind of memorial she was hoping to make to commemorate her son's life.
"The Holy Spirit just washed over me and I felt such peace about it," Cupp said.
Joshua's mother blogged about the idea, and it reached the computer of a Theresa Taylor of Tennessee. Her son, Freddy, was a soldier who had been serving in Haiti for two years. The young man was shot in early December and died on Christmas day of 2010.
He made his mother a beneficiary of his will and told her, "My heart is in Haiti. People in Haiti have no hope."
His mother wanted to commemorate the life of her son, which he spent helping others, in a special way. She called Sally Huan at World Help to see how much money was needed to finish Joshua's well. Huan told her there was still $14,000 to be raised.
"I'll wire you the money," Taylor said.
In about two months, Kay Hall raised $15,000 to build a life-giving well for an entire village of Guatemalans.
Reflecting over the past few months, Hall said she related closely to Moses when God called him to do something bigger than he believed he could.
"Dick and I prayed, 'Do above and beyond what I could ever ask or think,'" Hall said. "We are so filled with what God has done."