Say yes to the dress: The Wedding Planner Society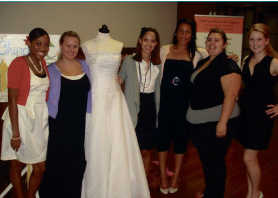 The Wedding Planner Society (WPS) offered opportunities for everyone at their first new member interest meeting of the semester on Thursday, Jan. 27. The meeting was held to inform future members of how to join WPS and what kinds of activities they can expect to do as members.
WPS was founded by President Kelley Rucker in the spring of 2010. Since then, WPS has held two formal induction ceremonies, growing from 35 to over 60 active members.
Throughout the semester, the group holds different training sessions held at various venues and businesses such as Bill's Pastry Shop, Church Street Bridal and West Manor. Some of the past activities include pastry making, trying on gowns, food tasting and more.
"We learn better when we see it," Rucker said. "The main focus is to train Christ-centered students as wedding planners, and wedding or event professionals."
WPS's statement of purpose includes training and developing members while providing encouragement and advising for students pursuing a career in the wedding or event-planning field. So far, the feedback for the society has been positive, according to Rucker.
"It's the most encouraging thing to hear positive feedback from people we don't even know," Rucker said.
In order to join, members must pay a $30 membership fee and submit an application. The application includes contact information, reasons for applying and a personal testimony.
"You learn many great skills, and it's just fun. It's a huge opportunity to network with people and get jobs," Rucker said.
WPS works hand in hand with the Central Virginia Bridal Guide (CVBG) in order to interact with wedding professionals locally. CVBG sponsors and books events, networks and even provides jobs for some members.
"I love being a part of something that I love myself, and meeting people that love weddings as well. We also get real-world experience by visiting different vendors," member Casey Gunter said.
Most recently, the society has organized a Spring Break Wedding Exposure Trip to Orlando, Fla. on March 12 to 20. The trip cost starts at $400 per person. All Liberty students, staff and faculty, regardless of gender, are eligible to attend this event that includes transportation, lodging, daily breakfasts and tours of prominent wedding venues.
Participants will have the opportunity to relax, spend time with friends, tour different event locations and enjoy Disneyworld (for an extra fee).
For more information on WPS, please visit the Wedding Planner Society facebook page, or their website at wix.com/luwedding/weddingplannersociety.