GLTC over budget, buses to still run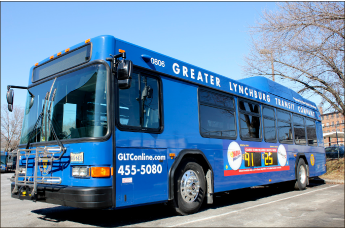 Long, blue buses roll around campus every day transporting students to class, dorms or extracurricular destinations. What students probably do not think about while they are crowding onto those buses is how they would get places without them.
The Greater Lynchburg Transit Company over-shot their budget by $195 thousand. As a result, the company is considering their options in order to cut back on expenses. The budget includes labor costs, material and supplies, travel and training. Two-thirds of the operating budget is labor alone, according to General Manager of GLTC Michael Carroll.
"Budgets aren't cast in stone. It's a stroke of luck to hit it exactly. Sometimes you come in a little high and sometimes a little low" Carroll said. "We certainly don't like to see this."
Carroll said it was the increase in fuel costs, operator labor cost and going over budgeted hours that sent GLTC over their mark. They are looking at reducing service in Amherst County but do not plan to downsize the service provided to the city of Lynchburg or Liberty campus. Liberty University Transit Director Tim Spencer also sees no reduction in the Liberty service at least for this semester.
"There are no plans to cut anything back as far as this semester is concerned," Spencer said. "We don't know what will happen in the fall yet, but we plan to offer the same service but with a few added benefits."
The budget for the year allocated $2.35 a gallon for fuel costs but fuel prices increased to up to $2.90 a gallon. Hybrid buses have helped by cutting fuel prices by 35 percent due to fuel economy.
"Until they invent a bus that runs on air, we'll have to deal with fuel costs. The last thing we want to cut is service on the street," Carroll said.
Spencer explained that Liberty and GLTC negotiate a yearly contract. Then GLTC provides buses to run the campus routes. According to Spencer, Liberty has 13 GLTC buses that run on routes around campus and also off campus to apartment complexes and plazas. After 5 p.m. and 10 p.m. buses are cut back on the routes to save on costs.
"We reconstructed the bus service. It allows for more capacity and we are able to become more efficient than the past with this new system," Spencer said. "We want to make sure that students are getting the most out of their transportation fee."
Carroll said he was not aware of any set plan to deal with the over-spending. He went on to say GLTC will reconcile where they can such as reducing fuel costs and travel, cutting down on training costs and hours and talking with "appropriate officials" to see what can be done. The Liberty service will continue as usual for the remainder of the semester.