For God and country: Tyler Ellwein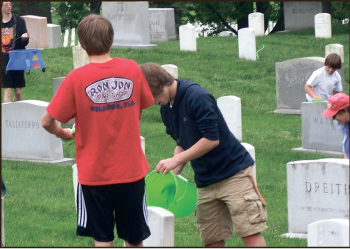 Tyler Ellwein, known as TJ to friends and family, is a freshman athletic training major at Liberty. He likes baseball, basketball, working out at the LaHaye Student Center and going on adventures with his friends.
Tyler Ellwein is also an Eagle Scout and was recently one of four Eagle Scouts across the U.S. nominated for the Congressional Medal of Honor American Spirit Award.
This is the same award that was presented to Chesley "Sully" Sullenberger, the pilot who landed his airplane safely on the Hudson River. This year, in honor of the 100th anniversary of the official Boy Scout magazine of "Boy's Life," the Congressional Medal of Honor Foundation (CMOHF) as well as past Medal of Honor recipients are working together to give Americans the chance to choose the next recipient.
"For my project, I wanted to do something big, and for God and country," Tyler Ellwein said. "Both my parents are in the military. I was researching various projects, and I found some where kids cleaned up gravestones and cemeteries. Since I live so close to Arlington National Cemetery, I brought the idea to my mom, and she thought it was a great idea."
It was also the 100th anniversary of the chaplain's assistant military occupational specialty. Tyler Ellwein logged 467 hours of community service by organizing 40 of his teammates from Annapolis Area Christian School in Severn, Md. and Troop 1437 as they cleaned and scrubbed 400 headstones on Chaplain's Hill at Arlington National Cemetery in time for Memorial Day 2009, which saw roughly 75,000 visitors for the inaugural Memorial Day address by President Barack Obama, according to Sgt. Maj. Dianne Ellwein, Tyler Ellwein's mother. Sgt. Maj. Ellwein is the Chaplain Assistant Career Field Manager for the Army National Guard, which involves overseeing all the chaplain's assistants across the globe, and is also the Senior Enlisted Advisor to the U.S. Army Chief of Chaplains at the Pentagon.
"It's just a blessing, for him to be nominated for this great award," Sgt. Maj. Ellwein said. "The project just shows how the Boy Scouts are reverent to God and how America and the Boy Scouts value the sacrifices of the chaplains, who brought the word of God to soldiers to give them the opportunity for everlasting life."
Tyler Ellwein lists his faith and his military upbringing as major influences for his project choice, as well as his choice for how he lives his life. He also said that saying goodbye when his father was deployed twice brought home the fact that many people have lost family members in wars, and that the dead should be honored for the sake of those who survived.
"My parents are the two most influential people in my life, and they're very strong Christians," Tyler Ellwein said. "I grew up with their standards, and with my Christian upbringing, they're my role models in every way."
Tyler Ellwein has been interviewed by many news outlets since his nomination, including Fox News, NBC News in Baltimore and Boy's Life magazine. However, despite the media attention and accolades he has garnered for his project, he has kept it from going to his head, according to Sgt. Maj. Ellwein.
"He's rather overwhelmed from all of this, and he's been very humble," Sgt. Maj. Ellwein said.
The Chaplain Hill project has already won the 2010 Eagle Scout Project of the Year Award in Baltimore, and Tyler Ellwein was selected as the "Hero for the 100th" out of roughly 50,000 Boy Scouts, according to Ashley Pinkham, the development and marketing director for the Baltimore Area Council.
The nation has been given the chance to vote for their next recipient through online voting at Boy's Life magazine's website, boyslife.org/americanspiritaward/. Voting ends Feb. 11 and will constitute 50 percent of the selection process, according to a press release from the CMOHF and Boy's Life. People can vote once a day for as many times as they want until the deadline.
The recipient of the award will be flown to Washington, D.C. to receive the American Spirit Award, and will also participate in National Medal of Honor Day activities March 24 and 25.
The winner will also be profiled in Boy's Life magazine and will serve as the publication's ambassador for the remainder of its 100-year anniversary celebration.
For more information about the American Spirit Award, visit boyslife.org/americanspiritaward/.