Giving blood to save lives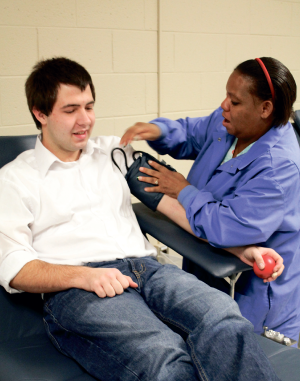 Lynchburg Red Cross encourages students to donate
Two young men sat patiently waiting in the chairs that lined the back hallway in DeMoss. Each of them peered at fellow students who hurried off to class, and awaited the sound of the nurse who would call them to her station.
"It's for a good cause," junior Terence Sanford said. He looked over the paperwork given to him before returning it to the desk. "I've given about eight to ten times."
"I agree," sophomore Samuel Johnson said. "I've donated multiple times over the past three years. It feels good to be a blessing to those who need blood."
Both smiled as they spoke and waited for the donation process to begin.
The American Red Cross set up its nursing stations Wednesday, Jan. 19, for a one-day blood drive.
The blood drive, which takes place five to six times a day in the Appalachian region, according to operational supervisor Darlene Deyerle, is essential to equipping local hospitals with the life-saving blood needed for victims after automobile wrecks, or patients from heart or other surgeries.
"It is very important to give," Deyerle said. "Every three minutes there may be someone who needs blood."
In each donation period, according to the American Red Cross website, each participant will donate approximately one pint of blood. With that one pint, three lives can be saved through the processing and separation of blood parts.
"It's not a big deal," Johnson said of the blood donation process. "It's actually kind of cool."
The process, according to Deyerle, includes only a small amount of paper work and a mini-physical, involving checking the donor's temperature and blood pressure among other tests.
"It's pretty easy (to give blood) after the first couple of times," Sanford said, and that it's pretty convenient to have the blood drive on campus.
"We have a four-day blood drive every semester on Liberty's campus, and then we have some in between, so we're usually here several times a year," Deyerle said.
"Colleges and high schools make up for about 20 to 30 percent of our blood supply annually," account manager for the American Red Cross Lynchburg Melanie Mitchell said. "We rely heavily on Liberty donors. They really are wonderful to us."
Although Mitchell is thankful for the dedication of contributors like Sanford and Johnson, she continues to encourage others to give.
"The need for blood does not stop," Mitchell said. "We can always say, 'my neighbor's going to give,' or will just drive by and think that someone else will do it, but there is no guarantee in that. The only guarantee is if people actually come out and give."
Mitchell said the winter months pose a challenge to the Red Cross — citing poor weather for stalling their collection.
"The winter months are always tough, so unfortunately the donations do go down," Mitchell said. "We are now about 600 units of blood behind where we need to be, to date, so we are trying to avoid a shortage."
The blood collected is provided to 42 hospitals in over 20 counties in the Appalachian area, Deyerle said.
"I always say this one thing that really seems to stick," Mitchell said. "And that is, it is our civic responsibility to maintain the community's blood supply."
Deyerle recommends that those preparing to give blood make healthy food decisions and increase fluid intake for two to three days before giving.
A complete list of requirements and instructions for donation can be found on the American Red Cross website.
For further information about the Lynchburg and Campbell County Red Cross blood drives, contact Mitchell at 540-580-7196.