Profile: Professor Monique Maloney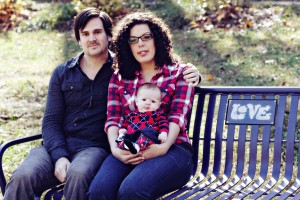 "Being here is kind of a mini-miracle," Professor Monique Maloney said.
The fashion-forward VCAR professor smoothed her black silk dress and smiled as she recounted all the events that brought her and her husband from Pensacola, Fla. to Liberty.
"Art runs in my family," Maloney said. "I just never thought I would be teaching it."
For Maloney, teaching was the only option to be considered.
"My senior year (of undergrad), I did an internship at a public school in the graphic arts program, where I got to work with the students," Maloney said. "Just to see them understand concepts and see their eyes get really big and excited when they understood, it made me get excited."
It was that excitement that caused Maloney to get her Master's degree, so that she could teach design.
"There's a lot of fulfillment in seeing that passion (for design) being passed from one person to another," Maloney said. "I thought 'you know what, this could be something.'"
After graduating with her Master of Arts, Maloney worked for two design agencies before returning to her alma mater, Pensacola Christian College (PCC), to help revamp the design program and teach there. She and her husband stayed in Pensacola until they received the news that changed their future.
"We found out that we were pregnant in December (of last year)," Maloney said.
Because of PCC's strict guidelines for faculty and students, Maloney and her husband wondered whether staying in Pensacola was the right choice for their growing family, she said.
"At that point we were really curious about how we wanted to raise our daughter," Maloney said. "We were really praying about what to do."
The more they considered their personal convictions, they felt the Lord was leading them somewhere else.
"God was really showing us that a change needed to happen," Maloney said.
Though the interview and approval process was difficult — including a panel interview via Skype— Liberty accepted Maloney to start teaching this fall semester.
"It was the most nerve-racking experience of my life, but there was an overwhelming sense of peace about it," Maloney said. "Through lots of prayer on Liberty's part and our part, God worked it out for us to be here."
Though Maloney knew that God had it all planned out, she wondered about the close proximity of Liberty's faculty orientation to the due date of her baby.
"I sat all day through orientation feeling awful," Maloney said. "My feet were bigger than my calves because they were so swollen."
The next morning, Maloney gave birth to her baby girl, Zoey.
She took six weeks of maternity leave, but said that while at home she wanted to be back in the classroom.
"The whole time at home, I felt torn," Maloney said. "I've never had down-time to sit and not do anything, so I really wanted to be back at school."
She kept herself busy dressing up her little girl. She makes her own fabric flower-headbands and accessories for her daughter and is selling them on Etsy.com to raise money for a Christian organization.
"I'm making felt flower headbands and pins and things and profits will go to Freedom 4/24," Maloney said.
Freedom 4/24, according to its website, is a non-profit organization that "exists to raise awareness of the rampant sexual exploitation of women around the world, and specifically in Southeast Asia, while raising money to support Christ-centered ministries that seek to rescue women enslaved in the sex industry."
Her business, she said, will be called "24 Blooms" – an analogy for what she hopes the proceeds will do for the restoration of the victims.
"These girls are just destroyed (by sexual exploitation)," Maloney said, her eyes watering as she spoke. "(It changes) their outlook on life, God and humanity, but $24 could turn their lives around."
Maloney sees this business as a way to give back to God for what He has given her.
Maloney's business is now on Etsy.com at 24blooms.etsy.com. To find out more about Freedom 4/24, visit freedom424.org.