Twins give back to Operation Christmas Child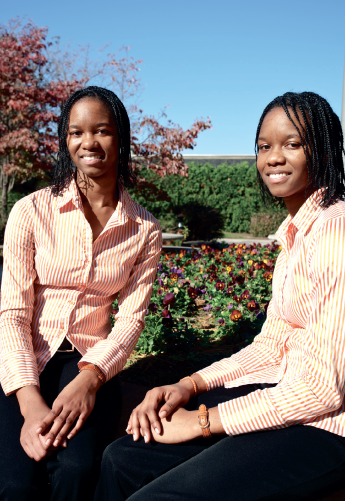 Sherika Moss looked to her sister Shanika as she finally found the words to describe her gratitude.
"It made a difference in my life — in our lives — to see that someone cares about us, to see that people are living the Word and giving in ministry," Sherika Moss said.
Distributors for Operation Christmas Child's (OCC) empty shoeboxes never thought that they would meet the recipients of their gifts, but on Oct. 25, they handed two past recipients of the boxes some empty ones to fill for others.
Shanika and Sherika Moss, two freshman students from Trelawney, Jamaica received OCC's shoeboxes as children — an event that they said had an impact on their lives.
They remembered receiving the gift boxes while they were in elementary school.
"It was second or third grade when we saw those big boxes coming in," Shanika Moss said. "They would call us row by row to come and pick up our boxes."
"We were like 'Wow,'" Sherika Moss said. "It put a smile on our faces."
OCC is a ministry of the Christian organization, Samaritan's Purse. Samaritan's Purse helps "meet needs of people who are victims of war, poverty, natural disasters, disease, and famine with the purpose of sharing God's love through His Son, Jesus Christ," according to their website.
Every year, the website said, Samaritan's Purse sends gift boxes to 130 countries, and last year over eight million children received gifts.
"In some areas there is a lot of poverty," Sherika Moss said. "In the last month there has been a storm in Jamaica, and people lost their homes."
Sherika Moss said that the storm caused damage to books and other necessary items the Jamaican people need. Traveling has become difficult because of the water damage and flooding on roadways.
"It's hard for them to get out (to the stores)," Sherika Moss said. "They have to stay home or take a boat across."
Sherika said that the OCC shoeboxes would be helpful for the people who have been affected by disasters like that storm.
Samaritan's Purse has been asking Americans to gather together toys and hygiene items in the boxes, to give joy to children all over the world.
"Since 1993, Samaritan's Purse has delivered over 77 million shoebox gifts," Central Virginia's OCC coordinator Sherry McFaden said. "These little gifts can show children that there is someone out there that cares about them … and that God loves them too and that He cares about them."
OCC's red and green colored shoeboxes have been placed around Liberty's campus for students to pick up and fill for distribution. Students are asked to take a box and fill it with gender-specific gifts, such as toothbrushes, soap, and wash rags as well as toys such as baby dolls and model cars.
For Shanika and Sherika Moss, the hygiene items were appreciated but the toys were something to treasure. Shanika Moss mentioned a stuffed animal that she was given as a child, blushing slightly as she admitted that she still has it after so many years.
"That toy was something to keep — to cherish," Shanika Moss said.
As Shanika spoke, Sherika took out a small grey calculator from her bag. She waited until her sister finished and then held it out. She said that it was the same calculator she received in a gift box from OCC. Although she used it for its practicality in school, now she keeps it as a reminder of the love shown to her.
"That is how I would like to give back to others," Sherika said.
Sherika and Shanika have each been filling shoe boxes over the last three years, here in the U.S. They encourage givers to add personal touches.
"You can even write them a little letter," Sherika said. "I wrote 'Jesus loves you' the last time in the coloring book I gave."
Collection week for the shoeboxes is Nov. 15 to 19 at the Office of Student Leadership in SLAB, room 109, and the Liberty Champion Office in DeMoss Hall, room 1035.
Everyone is encouraged to take a box and fill it up with unused gift items.
"I would encourage everyone to partake in Samaritan's Purse. You never know what person's life you could be impacting out there," Shanika Moss said.
McFaden believes that this is an easy, budget-respecting way for students to get involved and make a difference.
"I hope that students realize what a huge difference such a small gift can make and that they would want to pack a shoe box, either by themselves or with some friends, going together," McFaden said.
Visit www.samaritanspurse.org for more information, including a list of gift ideas and instructions, or stop by the Liberty Champion Office in DeMoss 1034.