SPC GABRIEL HOMER: TAKING CARE OF FAMILY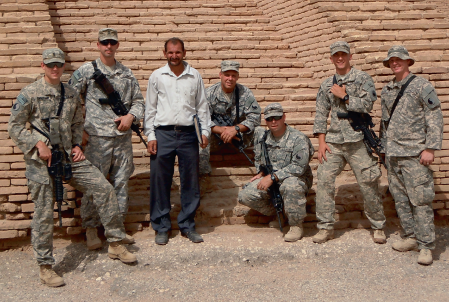 Missionary kid Specialist (SPC) Gabriel Homer has lived in Hong Kong and Taiwan, but he missed the mountains from his college home the most while he was in Iraq with the 1-116th Infantry Battalion.
"I love the Virginia mountains," Homer said. "I think that was one of the biggest things that I missed while I was over there. I have been all over the world and just Virginia's mountains are so beautiful."
The senior western legal traditions major was also excited to come back to his adoptive "family."
"I have really close friends," Homer said. "My family is spread all out throughout the world, so my friends are my family."
Homer did say that he missed one thing from his first tour of duty, where he was an operator, driving the scout truck.
"I felt there was a greater sense of purpose," Homer said. "You were actually doing something that makes a serious difference and it is hard to see that while you are sitting in a classroom."
Homer plans on eventually attending law school, but he is going to fulfill his army obligations before he continues his education.
"I really feel like I have struck something with the army that only the army can really provide," Homer said. "I feel really comfortable doing what I do with the army. It is a perfect fit."
Homer said the transition from soldier to civilian was not an easy one to make. Homer said the simple things were what brought the most culture shock.
"When we went to Kroger to get groceries, me and my roommates, and I just didn't like being around all those people I didn't know," Homer said. "That was my first bit of culture shock after coming back."
The push that got Homer to join the army was his little sister.
"I found out my little sister wanted to come to Liberty," Homer said. "My parents said that if you go to a Christian school, they would help us pay for it, but they couldn't pay for both of us to go to Liberty."
Homer told his parents not to worry about his tuition, he would take care of it.
"I have always wanted to do something in the military and it worked out too well," Homer said.
Now Homer is getting to enjoy a little more time as a big brother while at Liberty.