Selfless Sacrifices: Ed Peers puts family first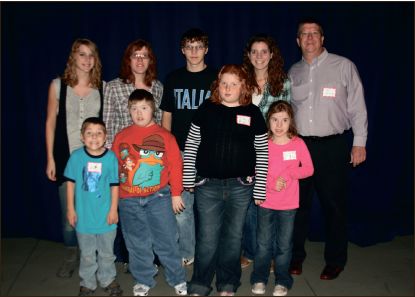 Ed Peers sat the table with his third-born Emily Peers at his right, his youngest son Andrew on his left,  and six more of his children surrounding them at the table. The Peers family traveled from Pennsylvania to Liberty for the Family Weekend Chancellor's Dinner, where Ed Peers would be awarded the 2010 Outstanding Parent Award.
Emily Peers, whose essay about her father was chosen by judges out of 103 essays submitted by students, read her essay on stage for the guests at the Chancellor's Dinner.
"My dad is a fun, loving single father of 11 children, an excellent spiritual role model, and has made many selfless sacrifices for my siblings and I. My dad has cared for my 10 siblings and I since my mom passed away in 2004 from a rare bile duct/liver cancer," Emily Peers said in her essay.
Ed Peers, a civil engineer, raised his 11 children on his own after his wife Gale passed away six years ago. According to Ed Peers, he has learned many things from raising a large family.
"Make sure you know where the permanent makers are, and don't sweat the little things. If it can be cleaned up, it's not the end of the world, and if it can't, it can be replaced," Ed Peers said. "Ultimately, it's the memories you make and the interactions you have."
Ed Peers tries to teach his children the characteristics his wife lived throughout her life.
"Their mom was a giving person. I try to teach them to always think of others first," Ed Peers said. "There were 900 people that came to my wife's memorial service, which was an example of the impact she had on people."
According to Ed Peers, family life before his wife's death was chaotic, but loving.
"We would spend a lot of time together, and enjoying every minute," Ed Peers said. "Gale was probably the best person I have ever met, and also my best friend."
Emily Peers said that her father does his best to be there for his family, both spiritually and physically, and works to teach his children many life lessons.
"Some of the most memorable lessons I have learned from my dad would be about being respectful and treat others the way you would like to be treated.  Growing up my dad and mom would not tolerate disrespect or arguing," Emily Peers said.
Ed Peers was honored by the Parent Association as the Outstanding Parent of 2010, and Emily Peers was awarded a $1,000 scholarship.