Fall foliage enjoyed by Valley View runners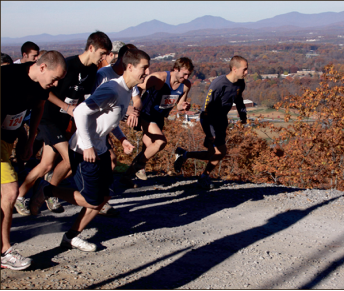 While the majority of the Lynchburg community was sleeping, a group of runners stretched at the top of Snowflex for the Valley View 5 Mile Trail Race at 9 a.m. Saturday, Nov. 13.
The race was part of the Liberty Mountain Trail series that seeks to provide fun events for students as well as the community, according to Associate Director of Student Activities Joshua Yeoman.
"The students and the general public have shown us a lot of support this year. All of our races have grown by at least 25 percent over the past years races," Yeoman said. "(Student Activities) thinks Liberty has some beautiful property in the trail system, and we want to be able to share it with everyone including the general public. The trail system is a major asset of the university."
According to Yeoman, the Valley View trail is the most difficult in the series with large hill climbs, technical single tracks and foliage that make the race especially difficult.
"This race is the fourth race in the Liberty Mountain Trail Series. It starts and finishes at Snowflex. We love having the start and finish there because the facilities are great and the views are tremendous," Yeoman said.
Sophomore Tim Shafer was the first to cross the finish line at a time of 35:36, followed by senior Jordan Witlock at 36:24.
"The course was tough. They weren't kidding when they said it was tough," Witlock said.
Shafer, a runner since high school, believed the last hill was the hardest part of the race after running four and a half miles.
Student Activities provided music and light refreshments throughout the event as well as games and prizes before awards were handed out.
Whitlock ran for Liberty until an injury from 100-mile race, but continues to run races such as the Liberty Mountain Trail Series. According to Whitlock both the 100-mile run and the 5-mile run are difficult in their own way in terms of pace.
"They both hurt and they're both painful," Whitlock said. "The 5-mail was tough for sure, especially with the leaves."
Junior Zach Kelly, a participant and runner in Liberty's Triathlon Club Team, said that most people running the race were not trained runners.
Runners were not only Liberty students but members of the Lynchburg community as well. There were about 125 participants not including the spectators that came to cheer on the runners.
Liberty Alum Darrell Wargo, 42, has been to 38 different countries for running and has participated in 1,328 races in 28 years, including 40 marathons. Wargo placed first in his age group.
"I came out here to enjoy the fellowship of other runners. I really appreciate all the trails, " Wargo said. " It's also so good to see the kids get out and do stuff other than video games."