Creation Hall floods…again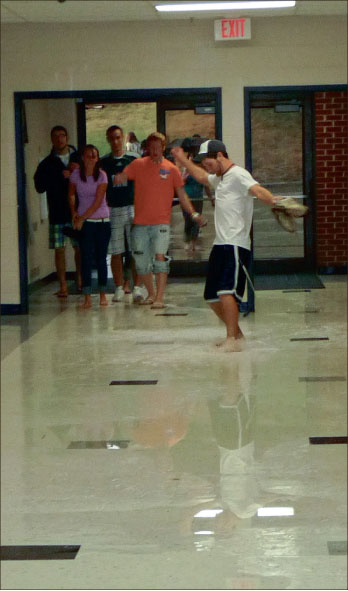 Senior Sammye Spillar was walking through the back hallway of DeMoss two weeks ago, on the way to study in the biology department.
She had just stepped out of the sudden rainstorm when a familiar face greeted her.
"I saw one of the professors, and I said 'This weather is crazy,'" Spillar said.
Then the professor pointed farther down the hall, and Spillar suddenly realized that instead of escaping the rain, she was about to walk right into it, she said.
"He said,'You haven't seen the hallway yet,'" Spillar said. "I thought, 'Oh my gosh,' because I forgot the last time that it happened."
DeMoss Hall flooded twice during the summer and again Wednesday Sept. 22 just before 6 p.m., Director of Creation Studies David DeWitt said.
"During the summer, everything (on one side of the hall) was ruined, because there was no one here to salvage it," DeWitt said.
When people saw the flooding this time, both faculty and students rushed to help, DeWitt said. He called LUPD and building services as soon as he saw the flooding.
"There was no way that I could have done this alone," DeWitt said. "A whole slew of students were walking through and said 'Can I help? What can I do?'"
Spillar cleaned up the wet papers and models that biology students re-created after the first ones were destroyed.
"It is hard to describe the damage that's been done," Spillar said.
Her paper mache giraffe was ruined, along with dozens of other similar paper mache models and papers, she said.
"It still kind of looks like a giraffe but the water has done a lot of damage," Spillar said.
Senior Nathan Hubbard, who is also studying biology and pre-med, immediately helped clear the shelves, and one thought was running through his head, he said.
"Oh no, here we go again," Hubbard said.
He saw the damage this summer and felt frustrated for the alumni and students who dedicated hours of volunteer time every week arranging the shelves, he said. Spillar often worked until 3 a.m. some days, she said.
"It's just disheartening to have something that looks great and … can glorify God and is just ruined," Hubbard said.
Two alumni donated $350 combined to items that are now ruined, Hubbard said.
"It is extremely discouraging for them to see their work ruined," Hubbard said.
It took several volunteers weeks to recreate the creation hall the first time, DeWitt said. Students remade several documents electronically that were not saved, Hubbard said.
DeWitt is not sure how long it will take them to assemble it again, but Spillar is concerned that more water might leak onto the shelves.
"We could come in tomorrow and ceiling tiles could be completely soaked," Spillar said.
Hubbard wonders what will happen next time and what will happen to the creation hall, he said.
Students stopped on the way to class, looking at replications of dinosaur bones and reading about them, Hubbard said. He hopes to see that ministry continue without the rain interfering, he said.
"The creation museum is for both Christians, to attract them to learning more about creationism, and to defend the basic beliefs that we have as creationists and Christians," Hubbard said.
As students were placing black garbage bags over the empty shelves, DeWitt pondered on the way in which the items within those shelves were destroyed.
"It's quite ironic to have a creation museum destroyed by a flood," DeWitt said.
According to the Director of Field Operations Scott Starnes, the issue will be resolved by adding a gutter system and a base coat of uniflex which helps seal the roof.  Work was scheduled to begin Monday.
ZOSH is the Editor in Chief.