Service with Excellence
Since Liberty's inception, the University's mission has always been for its faculty and staff to be used by God to change students' lives. Over a year ago, the university leadership established a vision for the faculty and staff to realize anew just how much 'You Matter.' A university-wide initiative was launched to provide faculty and staff with fresh resources to continue this mission.
One aspect of the 'You Matter' initiative was to create a visible and sustainable employee recognition program. Liberty University believes that informal, department-level recognition is an important aspect of acknowledging the individual accomplishments and contributions of staff and faculty members. In keeping with the principles established within the local university-wide 'You Matter' initiative, the School of Business desires to ensure that the crucial efforts performed by our online team are also recognized.
The Service with Excellence feature is based upon the concept of acknowledging the superior service provided by the online adjunct team! Faculty are nominated by their Instructional Mentors or School of Business Administration. The School of Business recognizes and values the strength of our teams and the sacrifice our faculty makes in daily serving our students.
---
January
Laura Lamb
Laura is a full-time CPA who works in a Public Accounting Firm. She brings real-world accounting experiences into the Accounting Classroom first hand. Public Accountants work long hours and even over-time at various times during the year. Laura has never let her FT job get in the way of her teaching responsibilities in the classroom. She not only meets but exceeds expectations. Her dedication to students and the professionalism she brings into her classroom.

---
February
Joanne Jordan
Mrs. JoAnne Jordan is close to completion of her Ph.D. in advanced accounting and also holds an MBA and a Masters of Accounting. JoAnne brings to mind one specific portion of Scripture:
Ephesians 4: "I, therefore, the prisoner of the Lord, beseech you that ye walk worthy of the vocation wherewith ye are called." 
Specifically, she was applying this verse in the Fall 2017 semester as she called from the hospital concerned that she would post her grades late. Her husband was in the hospital severely ill, but she cared enough for her students to call me and email her students. She completed her grading at the hospital, while her husband recovered. This was a tough semester for JoAnne as her husband was in the hospital several times, she had a broken foot, and she weathered hurricane Irma. Through all this turmoil, JoAnne had no complaints. She was troubled for others: her husband, her students, and her family. JoAnne walks worthy of her vocation as she loves teaching and she especially loves teaching for Liberty. It is an honor to know her and have her on my team.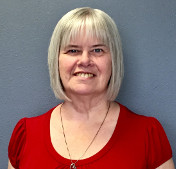 ---
March
James "Brian" O'Roark
James "Brian" O'Roark serves as a Subject Matter Expert and instructor for ECON 213.  Brian overcomes a student's notion that economics is a boring or challenging subject to learn by making the material entertaining and relevant with his personalized videos.  Brian also provides students with detailed feedback to further their understanding of course concepts and improve their performance on future assignments. Brian is a valuable asset to The School of Business and its students and very deserving of the Service with Excellence Award.

---
April
Brandy Havens
Brandy is an enthusiastic and engaging instructor for Principles of Accounting II. Even though many of her students find the subject difficult, they can tell how much she enjoys Accounting and how much she cares about them and their success. Brandy goes above and beyond in numerous ways–she sends out links to extra resources and videos that supplement each week's readings, applies the topics for each week to real-world career opportunities as well as to Biblical principles, and she provides her students with detailed instructions and tips for success on the more challenging course assignments. Brandy is a dedicated instructor and a valuable member of the School of Business faculty.