Why Major in Philosophy?
The philosophy degree at Liberty develops the whole person and will prepare you for a lifetime of problem-solving and critical thinking. When you major in philosophy, you'll gain practical skills in debate and dialogue.
Learn to think and write clearly, argue a position with good reasons, interpret new data, and offer creative solutions. Develop your mind as an original thinker – someone who can think outside the box.
Our faculty spend quality time with our students, helping them to become practical problem-solvers. As a result, our students often go to top-tier graduate schools and are hired in all parts of industry, business, and ministry.
Student Testimonial – Hear My Story
Challenge the Way You Think
Our philosophy degree will prepare you to assess theories and worldviews by analyzing and evaluating claims and arguments from a biblical perspective.
Prepare for your career as you study multiple-perspective thinking led by professors who share your passion for philosophy and who are grounded in their Christian faith. Learn how to express your position and argue for the truth of Christian Theism.
Career Opportunities in Philosophy
With a philosophy degree, you can transition into a variety of careers. Impact others in fields like journalism, counseling, and human rights. Work in the business sector as a politician, lawyer, or in research and development. Or, pursue religious studies in theology, apologetics, or ministry.
---
Prepare for Grad School with a Philosophy Major
Launch into graduate school with a degree in philosophy. On average, philosophy majors score better on graduate admission tests than other undergraduate majors. Whether you want to go to graduate school, law school, or medical school – with a background in philosophy, you'll be prepared for the test.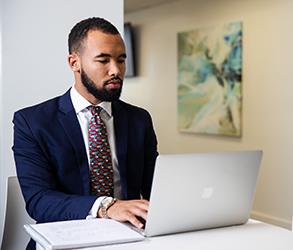 Verbal & Writing Skills
Philosophy majors score high in both the verbal and analytical writing sections of the GRE.
Law School
Planning to go on to Law School? A philosophy major will provide you with a well-rounded education. When it's time to take the LSAT, you'll be ready.
Business School
With a degree in philosophy, you'll be prepared to take the GMAT and enter the Business School of your choice.
---
Student Testimonials
"The faculty members are both academically challenging and warm; they are always open for discussion and meeting outside of the classroom. The training I received…continues to influence my life as a scholar in profound ways."
– J. T. Turner
"I grew probably ten-fold in my knowledge and faith in Jesus Christ during my career as a graduate student in the Philosophy department. These men were not only my philosophical trainers; they were spiritual advisors and mentors."
– Roger Turner
"The true value of [a philosophy] degree is in learning how to think – how to be a good thinker, a wise thinker."
– Wesley Grubb