Ballard leads cheer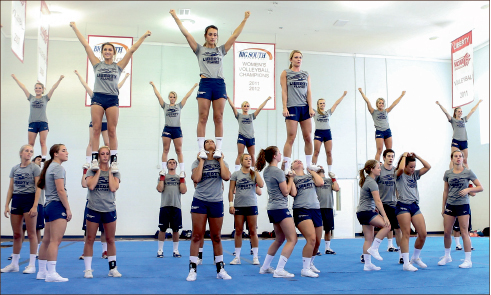 For the past six years, Jennifer Sydnor has held the reins to the Liberty cheerleading program. This year, the reins have been handed to Jordan Ballard.
Ballard, a 2004 Liberty graduate from St. Louis, Missouri, has four years of coaching experience. Two of those years were spent at the University of Colorado, while the past two years were spent as an assistant under Sydnor. This will be Ballard's first year as a head coach.
"I am very honored that I was the best candidate," Ballard said. "The team has a lot of great athletes. The kids are very talented at what
they do."
While under Snydor, Ballard watched as the cheerleading squad developed a positive reputation. Ballard intends to maintain
that reputation.
"Liberty Cheerleading is known as the God Squad," Ballard said. "That's supposed to reflect our Christian emphasis. That is something we want to uphold and live up to."
Not everyone knows about the cheerleading team's nickname, but it is sure to attract attention, especially when on secular campuses.
"It's a great way for us to put out that message of Christ," senior Nathan Casa said. "We put the emphasis not on ourselves, but
on God."
As an assistant coach at Colorado, Ballard experienced a different atmosphere than the one at Liberty.
"When you're an assistant for four years, you observe a lot of things," Ballard said. "I got to see the big school cheerleading."
Ballard already implemented a few new policies and ideas as an assistant coach and plans to continue that pattern as the head coach to keep up with the "big school cheerleading" squads.
Cassa, along with other members on the team, are looking forward to the change. However, they are aware that the change may not be seamless.
"With changes, there are gonna be goods and bads," Cassa said.
Many of the seniors on this year's squad are fond of the new coach and his methods and style of coaching.
"He tries to think so much out of the box about everything," Morgan Hoeritz said.
In addition to bringing a new coaching style, Ballard also plans to enhance spiritual development.
"He really pushes us to that next level and comes up with great routines that put us at the collegiate level with all the other big schools," junior Andi Passaglia said. "He really invests in us. He makes sure we are growing spiritually."
According to fifth year senior Logan Wer, the hope is that the team's spiritual bond will translate on the field.
"We want to be the best cheerleading team in the nation, so that we can ultimately proclaim Christ," Wer said.
The men on the squad were especially grateful for the new male leadership.
"I want to see things grow," Ballard said. "I want to get more guys on the team. That is one of our objectives, to recruit five more guys in the next two weeks."
However, Ballard is not the only one who hopes to see more men on the squad.
"Obviously it's a great thing to get more guys in here," Cassa said. "If you're even interested, go and try it. I, for one, was the person that thought I would never do cheerleading, and then you go and enjoy it, and I can get a scholarship for it."
With the football season around the corner, the cheerleading squad is preparing with a ready Ballard at
the helm.