Tourney awaits Lady Flames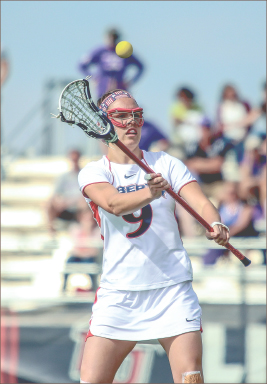 Lacrosse drops final two home games of the season, begins tournament at Davidson
Liberty's women's lacrosse team (2-15, 1-6 Big South) dropped its fourth straight game April 25 in a 19-14 loss to Winthop (7-10, 3-4 Big South).
Liberty came out with a lot of energy and controlled the ball and pace of the game out of the gate. The Lady Flames got on the board first with a goal from sophomore Kallie Britton and took a 2-1 lead a few minutes later with a Courtney Brown score.
"We just wanted to win," Britton said. "We have been getting better and better each game, and we just wanted to prove to everyone that we could win,"
The game was close through the first 15 minutes, but the Lady Flames never reclaimed the lead after the Eagles tied the game at 2. After a solid defensive start, Liberty's defense broke down in the final 11 minutes of the first half, allowing Winthrop to score seven more times before the halftime horn.
The Lady Flames scored twice right before the half but still trailed 10-6 at the break.
Sam Struss, the Lady Flames leading goal scorer, came to life in the second half. She netted a goal less than two minutes into the second half and finished the day with a team-leading four goals. Teammate Morgan Becker tallied four goals as well. Becker's third goal brought the Lady Flames within two goals of the lead, but that was the closest the score got in the second half.
"They have to be proud of themselves," Nangle said. "We have made a lot of improvements from the last game to this game, and I am happy with how they played. They have played hard. They left it all on the field, and they didn't give up."
"We have worked on draws so much over the past couple of days, because possession has always been key for us," Becker said. "If we get the ball off the draw and hold on to it, we can score all day from there."
The Lady Flames will be the No. 7 seed in the Big South Tournament, taking the field against No. 2 seed Davidson April 30 in Davidson, N.C.