Recreating maps through time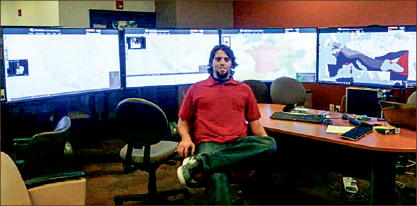 Jonathan Davis' project was inspired by the time he spent with Native Americans during his childhood in Arizona
Using cutting-edge technology, 2011 Liberty University alumnus Jonathan Davis combined his passion for history and knowledge of geographic information systems (GIS) to create visual stories that portray American history in a unique way.
While working toward a master's degree at Arizona State University, one of his projects gained attention from local radio station KTAR and Arizona State University News. His MapStory project, titled "American Indian Reservations 18th Century to Present," paints a visual picture of the establishment and locations of these reservations over the past two centuries.
Davis drew inspiration from his childhood experiences when choosing to research Native-American reservation stories. After growing up in Arizona and competing with Native Americans in various sporting events, Davis became interested in Native American history. Later, he decided to use his educational platform to share their stories.
"I have taken a particular interest in Native-American reservation stories, because I believe it is a sad story that needs to be told," Davis said. "MapStory creates maps that are played in succession through time. With this tool and my experience in research and knowledge GIS, I believed it would be a great opportunity to tell this story."
His MapStory presentation includes a video tribute with music and pictures of Native Americans, as well as a brief historical background for each time period.
According to Davis, his time at Liberty University provided an educational foundation that helped to prepare him for his project at Arizona State University.
"Liberty University gave me numerous opportunities to further my education and propelled me to seek to innovate and continuously learn new skills that would serve me in life and help me better serve the Lord," Davis said. "I primarily learned my research methodologies from Liberty and to both think critically and be self-motivated in order to do my best work in any endeavor I undertake."
Davis said that GIS is beneficial not only for historical projects but also in other fields.
"If a student has a desire to work in a similar field to mine, a knowledge of geographic information systems is a must. GIS is a rapidly growing field and would be an invaluable addition to any skillset," Davis said. "Its ability to leverage big data into a spatial medium has created jobs in many industries, including advertising, environmental, housing, business, sports, politics and weather."
Liberty began offering an undergraduate course for students interested in learning about geographic information systems in the spring of 2014. The course, environmental science 370, gives students the opportunity to learn about this topic as it relates to environmental projects, according to the Liberty website.
Biology and chemistry Department Chair Dr. David DeWitt said the course was developed by Liberty University Online instructor Dr. Stephen Underwood to aid students in their future career paths.
"To be marketable in the growing environmental field, the student must possess mapping skills," Underwood wrote in the course syllabus. "Most environmental decisions require the analysis of data portrayed on maps. This course will teach the student to utilize data to generate maps for the purpose of analysis."
According to Underwood, students will gain experience creating maps and reports on environmental projects to include in their resumes and portfolios.
DeWitt said that the course is currently only offered online, but the department hopes to offer a residential course in the future.