Gala benefits 'Wounded Warriors'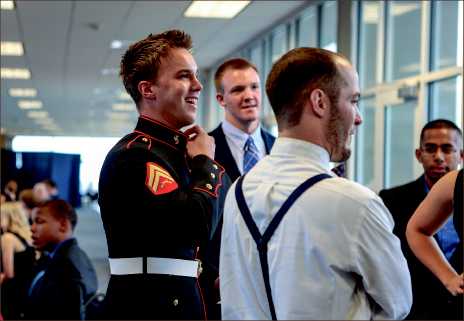 Veterans share inspirational stories about their experiences before, during and after joining the U.S. military
Abolition Week at Liberty University concluded with the Military Appreciation Gala at 5:30 p.m. Saturday, March 29, at Williams Stadium.
Tau Sigma National Honor Society President Erica Stewart and Junior Class President Chelsea Andrews organized the event through Young Women of America.
Stewart said that 2014 is the first year the Military Gala was a benefit event.
According to Andrews, the Gala provided dinner for the guests, donating 100 percent of ticket proceeds and other contributions to the Wounded Warrior Project.
U.S. Army retiree R. James Cook and former U.S. Marine Mark Finelli addressed the audience, sharing their military experience and encouraging the audience in their support for wounded warriors.
Cook shared the importance of respecting veterans when they return from service.
"We don't need to pamper them," Cook said. "The pendulum needs to go into the middle — we need to balance it."
Cook shared that he joined the military at age 17, but not simply to defend his country.
"It was a job," Cook said. "But at some point, this job became a profession, and at some point, this profession became a passion."
Finelli, a native New Yorker, was in the South Tower of the World Trade Center the day of 9/11 and escaped by running down 61 flights of stairs.
"All of a sudden, the North Tower just exploded," Finelli said. "By the time I got to the ground floor, it was complete anarchy."
Finelli said the bravery of New York firefighters inspired him to join the military.
"I ran down and out, they ran up and in," Finelli said. "After seeing the firemen run into that building … I couldn't live with myself if I didn't do something."
Finelli cautioned those in the service not to "expect a Swiss picnic" when they leave the military.
"It's going to get harder, not easier," Finelli said. "You got to take your time to readjust."
Finelli shared that 22 service members commit suicide a day, and most people have the toughest time of their lives when they first get out of the military.
"Don't get down on yourself when you get out," Finelli said. "There's hope, there's good things. Follow the good waves."
To benefit wounded warriors, Finelli started a fundraiser called the 100 Mile Hump. The fundraiser is a hiking event currently active in Arizona and Virginia and raises between 8,000 and 12,000 dollars a year.
"These people put their lives on the line for you," Stewart said. "Help us honor them by getting involved in the wounded warrior project."
Associate Dean of the Helms School of Government Stephen Parke said the Military Gala is a yearly event that every student who honors the military should attend.
"I am so humbled and honored to be a part of the Military Gala," Parke said. "It is well worth (the) time. It is a fantastically well-prepared and well-done event, and the food is outstanding."
Andrews said the Wounded Warrior Project is a great cause people need to be more aware of.
"We think about (soldiers) on the front lines, going through battle," Andrews said. "We don't think about what happens when they're done with that term."
Sophomore Rachel Leininger said she was shocked to hear the suicide statistics of service members.
"It was heartbreaking," Leininger said. "It's nice to see that there's hope, and there are people working to stop that and support people when they return."
Andrews encouraged people to reach out to the wounded warriors in their communities.
"Any way that you can get involved, whether it's money or it's time … they just need assistance and help," Andrews said. "Get involved as much as you can."
The donation page will be open until Saturday, April 5. To donate to the Wounded Warrior Project, visit support.woundedwarriorproject.org/group-fundraising/liberty.