Flames Club holds luncheon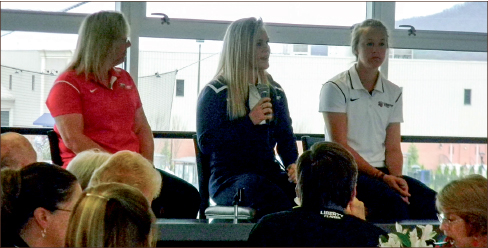 Athletic teams share about their accomplishments from the last semester
The Liberty Flames Club held its last luncheon of the semester Thursday, April 3, at 12 p.m. for its dedicated members to enjoy a meal and learn about how Liberty University sports teams performed this semester.
Director of Athletics Development and Flames Club Bob Good introduced the event with prayer requests and recognition of all the people who helped make the event special, including Aaron Thomson, Flames Club associate, and Megan Robinson, director of Donor Relations for the Flames Club.
Members had the opportunity to listen in on a question and answer time between Alan York, Flames Sports Desk host, and both the softball and baseball teams. They had an opportunity to ask their own questions at the end.
Head Softball Coach Dot Richardson told a story about how two future players at Liberty had a realization that changed the entire sport of softball for them.
"It's not about playing the sport and winning the games, it's about showing the gifts you have been given to give glory to the Lord," Richardson said.
When asked how their team has improved, the catcher for Liberty's softball team, Kelby Allen, explained how they have taken a step forward as a team.
"Our defense has improved," Allen said. "Our offense has improved. We're feeling pretty good."
Members of the Flames Club are typically parents of Liberty students, alumni, donors and anyone with a connection through the university and range in all ages, Thompson said.
According to Good, there are eight different ticket levels that members can choose from, starting with $60 at level one and ending with $12,000 at level eight.
"Members can enjoy preferred seating, parking and hospitality privileges based on their ticket level," Good said.
Another part of the Flames Club is the annual fund, according to Good.
"It is an organization where you are asking everybody who cares about Liberty athletics to make an annual gift to the athletics program by joining the Flames Club," Good said.
Flames Club members who are interested in football can purchase one of the 18 luxury suites that are available, and they sell at $25,000 each, according to Good.
"We have had a 97 percent occupancy rate over the last four years … with the 18 luxury suites, because we have sold them out every year except one," Good said.
For more information about becoming a member or where to buy season pass tickets, visit liberty.edu/flames.